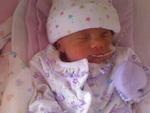 August 30, 2007
-
September 9, 2007
Born in Salinas, CA
Resided in

Salinas

,

CA
Obituary
Emily Elizabeth Davi, born into the arms of her loving family on August 30, 2007, and guided by her twin sister, Abigail Marie into Heaven's gates, hand in hand, with our Lord Jesus Christ on September 9, 2007.

Survived by her parents: Vincent and Stephanie Davi, Grandparents: Robert A. and Debi Davi, Mike and Lynda Campos, and Steve and Leane Gardiner, Aunts: Leslie Gardiner and Leigha Campos, Uncle: Aaron Campos, Cousin: Tyler Davi, Godfathers: Frank Aguilar and Ron Alvarez, and numerous great-grandparents, aunts, uncles, and cousins who loved her dearly. Preceded in death by her Uncle, Clay Davi, and laid to rest with her sister, Abigail Marie Davi.

Visitation will be held on Friday, September 14, 2007 from 9:00 am to 11:00 am at Struve and Laporte Funeral Home 41 West San Luis Street, Salinas, CA 93901.

Service will be held on Friday, September 14, 2007 at 11:00 am at the Struve and Laporte Funeral Home.

Burial will follow at the San Carlos Cemetery in Monterey.

Donations are encouraged in Emily's and Abigail's name to the Trisomy 18 Foundation (www.trisomy18.org), the SOFT Foundation (www.trisomy.org), or the Diaphragmatic Hernia Foundation (www.cherubs-cdh.org).
Daddy's Little Girls

Dear Abigail and Emily,

The second I touched your soft, beautiful skin and looked into your dark blue gorgeous eyes was the second daddy understood what love was all about. Never in my life have I felt so special to be a part of my little Angels lives. Emily and Abigail, the second I saw you a whole new life began for me, and then suddenly taken away. My heart is shattered and there are no words to express my feelings of pain. I will NEVER FORGET you. Abigail, you were taken almost instantly into the arms of the Lord; thank God without suffering- I will miss you forever. Emily, the Lord was generous and gave us a little time with you and I thank him for that. You and your sister were the most special things that had ever happened to me. Being a Dad is the greatest thing in the whole world. I can't explain the feeling I would get when I touched you or held you in my arms. Your little hands, your little feet, your soft lips and your beautiful smile. The way you kicked when I touched your feet and the way you squeezed my finger until the end. I'm sorry my beautiful baby girl that I couldn't ease your suffering. You fought so hard and were so strong and had the BIGGEST HEART a Daddy could ever wish for. You and your sister are now my little guardian angels and will always be DADDY'S LITTLE GIRLS!


Mamma Loves You

My world changed the second I saw you. I thought carrying you for nine months was incredible, but the way I felt when you finally arrived was so overwhelming. You are ANGELS. Mamma loves you so much. Holding you was the best feeling in the world. I wish, with every part of my being, that I could hold my baby girls again. I want to smell you. I want to touch you. I want to hear your noises. I want to feel your warmth. I WANT YOU BACK IN MY ARMS. I want to tell you how much Mamma loves you. And even though I must trust in God during this horrible time, my heart won't be the same until I see you again. Always know that Daddy and I miss you and we'll never forget how you changed our lives. And remember: MAMMA LOVES YOU!!!
Services
Visitation
Struve and Laporte Funeral Home
41 West San Luis Street
Salinas
,
CA
US
93901
Service
Struve and Laporte Funeral Home
41 West San Luis Street
Salinas
,
CA
US
93901
Cemetery
San Carlos Cemetery
792 Fremont
Monterey
,
CA
US