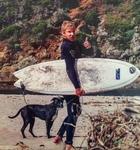 Todd
Michael "Sharkboy"
Endris
April 9, 1983
-
September 12, 2016
Born in San Jose
Resided in

Spreckels

,

CA
Obituary
Todd Michael Endris, 33, of Spreckels, California passed away surrounded by his family on Monday, September 12th, 2016 after succumbing to injuries related to an automobile accident that occurred the evening of September 1st.

Todd was born on April 9, 1983 in San Jose, California to Mike & Kathi (Paullin) Endris. As a child Todd was sweet, quirky, and energetic. He loved back scratches from his mom and grandma, playtime with his big sister, peanut butter bread, nerf guns, remote control cars, skateboarding, figuring out how things worked, the outdoors, and aquariums. Todd always had a deep appreciation for and interest in animals of all kinds. Todd attended Linda Vista and Milpitas Christian elementary schools and graduated from Archbishop Mitty High School in 2001.

It was during his teen years that Todd developed a passion for the ocean, the beach, surfing and the aloha lifestyle. He spent much time in Santa Cruz, and eventually in Santa Barbara as a surf camp counselor, honing his skills and doing what he loved most; being in the water. Todd's love for the ocean encouraged his decision to attend California State University, Monterey Bay, where he made lifelong friends, surfed daily, and ultimately earned a Bachelor's Degree. Throughout his college years Todd spent his free time reading about and learning all he could about coral, sea creatures, and creating thriving aquariums. Eventually his love and affinity for the ocean spilled over into his work when Todd's business, Monterey Aquarium Services, was born in 2006.

Todd went from a familiar surf face in Monterey to a local legend in 2007 after he was attacked by a Great White Shark in the waters off of Marina State Beach. Miraculously, thanks to dolphins in the water and the quick thinking of fellow surfers, Todd survived. He was back in the Marina waters in six short weeks and was soon known around town as "Sharkboy"; willing to take his shirt off and display his scars for all to see, happy to tell his story, and all the while advocating for and desiring to learn more about the animal that had nearly taken his life.

Shortly after Todd's shark attack, on Halloween night 2007, he met the love of his life, Michelle. Their connection was immediate; they shared an appreciation of nature and the outdoors, an affection for animals, an authentic friendship, and a deep, pure love. On October 13, 2012 they married in a beautiful, heart-felt beach ceremony in Monterey - it was the proudest day of Todd's life. Together Todd and Michelle created a beautiful home and a happy life in Spreckels.

Todd was larger than life: a genuinely kind person with a huge heart; a loud voice; a strong hug; and an unmistakable, contagious laugh. He loved his family, his friends, his pets, the ocean, snowboarding, and Sharks Hockey. Todd had a zest for life and for fun. He was a free spirit and a kind soul; pure of heart, authentic, and accepting of all people. Todd was one of a kind. He laughed and lived with abandon and had much of life figured out before the rest of us. We are all better for having known and loved him. Heaven gained a beautiful light and a loud laugh with Todd's arrival. We will deeply miss him here.

Todd is survived by his loving wife, Michelle Endris (Woll); faithful dog companion, Cosmo; cat, Moser; tortoise, Gary; parents, Kathi & Mike Endris; sister, Julie (Michael) Saccento; grandparents, Walter & Dorine Paullin; and his adoring nephews and nieces.

A Celebration of Life will be held on Del Monte Beach in Monterey on Saturday, October 8th. An open beachside service will take place at 4:30 pm, followed by a paddle out at 5:00 pm, and a private reception for family and close friends at 6:00 pm. Another celebration of Todd's life will be held in his hometown of San Jose at a later date.

Memorial gifts in Todd's name may be made to the Monterey County SPCA, Save the Waves, via paypal to toddendrismemorialfund@gmail.com for waiting room improvements at Natividad Hospital, or via paypal to missmendo@yahoo.com to help support Michelle as she begins to navigate life without Todd.
Services
A Celebration of Life .
Followed by a Paddle Out
Charities
SPCA for Monterey County
1002 Salinas Hwy
Monterey, CA US 93940

www.spcamc.org
Save the Waves, via paypal
toddendrismemorialfund@gmail.com


toddendrismemorialfund@gmail.com
To help support Michelle as she begins to navigate life without Todd
missmendo@yahoo.com