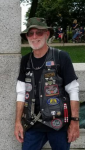 January 28, 1946
-
March 22, 2019
Born in San Mateo, California
Resided in

Salinas

,

California
Obituary
Longtime Salinas resident Stephen (Pops) Culver was welcomed into the kingdom of Heaven on March 22, 2019, after a lengthy illness, surrounded by his loving family. Stephen was born on January 28, 1946, in Berkeley, CA to Charles and Elizabeth Culver.
He is survived by Sherry, his wife of 52 years, his daughter Natalie Culver-Dockins, son-in-law Clint Dockins, and grandson, Logan Dockins. Stephen was preceded in death by his son, Jay Culver, and also by his brother, Pete Culver.
Stephen was a kind loving husband, father, and friend. He was a gentleman's gentleman who was as stylish in thin ties as he was in black motorcycle gear. His nicknames included "Hunk," "Skinny Rogers," and "Pops." He grew up playing golf at the Salinas Golf and Country Club and attended North Salinas High School where he was awarded a golf scholarship to Fresno State. He served his country with honor during the Viet Nam War in the U.S. Army at Madigan General Hospital outside Tacoma, Washington. After his military service, Stephen continued his education and became a teacher at Bardin Elementary School. He then began a career in the construction industry with P. E. O'Hare and served on the Builders Exchange. Stephen missed teaching, so he once again became a teacher for the California prison system.
In 1996, Stephen, along with his wife and daughter, formed the Jay Charles Culver Foundation for Suicide Prevention and Awareness in honor of his son. He worked tirelessly to bring awareness to the community and across the nation.
Pops was an avid motorcycle rider serving as the President of the local Christian Motorcycle Association and as the Chaplain of the American Legion Post 31, aka the Black Sheep. In 2017, Pops, Rick "Phin" Phinney, and Hy "Crash" Libby rode 9,500 miles to raise funds for the California Central Coast Veterans Cemetery. They carried an American flag to Arlington National Cemetery, where it was flown over the Tomb of the Unknown Soldier and then returned to fly over the California Central Coast Veterans Cemetery each year on Memorial Day to honor the fallen. While in Washington, D.C., they were honored to have their names read into the Congressional Record by Congressman Jimmy Panetta.
In October of 2017, Pops was named Monterey County Military and Veterans Affairs Commission's Veteran of the Year for his military service, his work for suicide prevention, his support of the Veterans Cemetery as one of the American Legion Riders providing funeral support services, and as one of the original organizers of the Epic Ride across the country and back raising funds for the Veterans Cemetery.
To pay respect to this exceptional gentleman a private viewing may be requested at Struve and Laporte Funeral Home, 41 W. San Luis, Salinas, CA. 93901 on Sunday, March 31, 2019 at 10:00 am 11:00 am. On Sunday, March 31th, Pops will be escorted by his fellow riders leaving from Struve and Laporte to the Garden of Memories Cemetery, 850 Abbott St., Salinas, CA. 93901 where he will be laid to rest next to his son, Jay. A Graveside service will be held at 11:30 pm. A memorial plaque will be placed at the California Central Coast Veterans Cemetery to honor Stephen's military service.
A Celebration of Life will be held at the American Legion Post 31, 14 W Laurel Drive, Salinas, CA. 93906 following the service.
In lieu of flowers, Stephen requested that donations be made to the California Central Coast Veterans Cemetery, Parker Flats Road, Seaside, CA 93908, or to the Suicide Prevention Service of the Central Coast, 1721 Seabright Ave, Santa Cruz, CA 95062.
Services
Visitation
Struve and Laporte Chapel
41 W. San Luis Street
Salinas
,
California
93901
Graveside Service
Garden of Memories Cemetery
850 Abbott ST
Salinas
,
CA
US
93901
Burial
Garden of Memories Cemetery
850 Abbott ST
Salinas
,
CA
US
93901