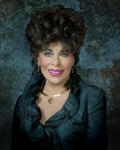 December 10, 1937
-
April 24, 2020
Born in Soledad, California
Resided in

Salinas

,

California
Obituary
Shirley Lavorato went to the Lord, Jesus Christ on April 24, 2020. She was born to John and Mary Soares On December 10, 1937 and was raised on a dairy farm in South Monterey County between King City and Soledad. She had ten brothers and sisters. From the day that she was born until the day that she passed, Shirley was exceedingly special. She was given extraordinary talents by God—and she multiplied and utilized those talents throughout her entire life for the benefit of not just her family, but countless people in schools, hospitals, and religious institutions throughout the Monterey County community. Shirley was a selfless and generous advocate for those that needed support, aid and community—always presenting a positive perspective to overcome life's most serious challenges. In the early days of her family life, some may have defined her as a wonderful homemaker, but she became known by many as a passionate worker for humankind. The list of humanities, volunteer services, boards of directors, and philanthropic endeavors are simply too long to list here. She was recognized both globally and locally, receiving the Benemeriente Medal from Pope Benedict XVI, the Honoree Award from the American Cancer Society, the Lifetime Achievement Award from the Alliance on Aging, the Partner Award from the Christian Brothers Foundation, the Philanthropy Award from Salinas Valley Memorial Hospital, and the National Philanthropy Award.

Despite all of her spectacular achievements for her selfless service in the community, her finest achievement was her family. In her own words found on her computer she stated: "Finest achievements: My three sons. Sam, Jr. a Monterey County Superior Court Judge; John, Executive Vice President and General Counsel for The Filtration Group Austin, TX. and Chris, Partner in the law firm of Howry, Breen, Herman in Austin, TX . Married to my wonderful husband Sam Lavorato, Sr. for 59 years. Three lovely daughters-in law, Tina, Waleska, and Tricia. Six precious grandchildren, Michael, Alexandra, Samuel, Louis, Matthew and Max."

Shirley greatly loved her parents and siblings. She lost her father, John Soares, at an early age. Her sons Sam, John and Chris never knew Grandpa John , but she always presented her father to them as a person of strength, honesty, and courage. Shirley loved her mother Mary ("Grammy") dearly. She intensely loved her siblings. All six of her brothers served in the United States armed services. Some of her brothers fought to protect this country in World War II and the Korean War under harsh circumstances. Shirley was immensely proud of all of them for their contribution to this country. Shirley believed that when she left this world, she would be reunited with her siblings and parents once again. That reunion has now happened!

Shirley relished life. She was extremely accomplished in the political community, but most importantly, she was accomplished spiritually, and a devout member of St. Joseph's parish in Spreckels CA. As a recipient of the Benemeriente Medal for "Good Works", she was recognized for her essential effort, support and service given to a clergy member or a lay person. She achieved that special honor after spearheading the project of building The Blessed Edmund Rice Chapel (the size of a church) at Palma School.


Shirley was direct, honest, kind, sincere, funny and generous. Simply stated, she was a shining example of how to live life well. She was a wonderful wife, mother, grandmother, sister, and daughter. She was a community leader and civil servant, whose tireless efforts made our communities a better place to live. To her family, she was a spiritual rock, wholly loyal—a person who provided unconditional love to her husband, children and grand-children at all times.
Shortly before she passed, Shirley was able to visit with her husband, children and grandchildren in a special farewell. Recently Shirley was pre-deceased by her grandson—Matthew Lavorato. Moments before she died, she exclaimed that she was so looking forward to "go see Matthew", and to "hug him", and that he would lead her into the gates of heaven. That has also happened!

Thank you Shirley for making life better for all of us. Thank you for believing in humanity, community, and love. Thank you for your example of how to live the best life. Thank you for unconditionally loving your family and friends. Rest in peace, in communion with the Lord forever.

Shirley is survived by her husband of 59 years Sam; three children: Sam (Tina), John (Waleska) and Chris (Tricia); her siblings Henry, Clarabelle and Patricia, and grandchildren Michael, Alexandra, Samuel, Louie and Max.

The family asks, that in lieu of flowers and arrangements, that friends and family contribute to the following charitable efforts: "Austin Community Foundation" (Note in the memo line "Matthew C. Lavorato Endowment Fund"), Palma School, The American Cancer Society Celebration of Life (Salinas), SVMH Foundation, or Salinas VNA & Hospice.

A Visitation will be held at the funeral home of Struve and Laporte (41 W. San Luis St., Salinas CA. 93901) on Thursday, April 30, 2020 from 4:00 p.m. to 7:00 p.m. (Given the current circumstances, social distancing will be required, thus, only 10 people will be allowed to enter the viewing area at any given time).

A Private Mass at Palma's Chapel and entombment at the Queen of Heaven Cemetery will take place on Friday, May 1, 2020.
Services
Visitation
Struve and Laporte Chapel
41 W. San Luis Street
Salinas
,
California
93901
Charities
Austin Community Foundation
(In Memo Line Matthew C. Lavorato Endowment Fund

Salinas Valley Memorial Hospital Foundation
450 E. Romie Lane
Salinas, CA US 93901

www.svmh.com
Central Coast VNA & Hospice
45 Plaza Circle
Salinas, CA 93901
Palma High School
919 Iverson St.
Salinas, CA US 93901