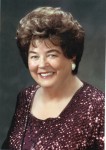 November 14, 1934
-
February 16, 2020
Born in Salinas, California
Resided in

Salinas

,

California
Obituary
Shirley Elaine Hansen aged 85 was called to heaven on February 16, 2020 after a decline in health due to kidney failure. A fourth-generation Salinas resident, Shirley was born November 14, 1934 to Merle and Bernice Wharton and touched every life she encountered with warmth, strength and grace.

Shirley's life was filled with music. She began piano lessons at age 8, and her perfect pitch was discovered soon after. For her whole life, Shirley loved playing for her family and countless friends.

At age 10, Shirley's younger sister Marilyn was born, and Shirley loved being a big sister. The whole family, along with Shirley's grandmother, attended First Baptist Church. It was there that Shirley accepted Jesus as her personal Savior, and would spend the rest of her life serving and worshipping her Lord. Shirley became the church organist at age 14, a role that brought her much joy throughout her life. Playing a three-manual pipe organ came naturally to her, and she enjoyed playing for services, weddings, and many special events. Shirley could play for hours at a time without any sheet music, effortlessly transposing hymns and any genre of music.

Shirley pursued her passion of studying music in school. From Sherwood Elementary School, to Salinas High School, and then Hartnell College, Shirley played string bass in the school band, marimba and all the percussion instruments. She taught piano and organ to many students over the years. Shirley maintained contact with many childhood friends; monthly get togethers gave the chance to reminisce about the good old days and to compare their aches and pains.

It was at Hartnell that she met the love of her life, Carl Hansen, as the band was preparing to march in the parade for the Junior Rose Bowl in Pasadena. They married in 1953 and were best friends, partners, and sweethearts for 66 years. They worked side-by-side in the family business, Wharton's Floor Covering, which they later bought from Shirley's parents. Their biggest blessing was raising two daughters, Cynthia Jane and Sandra Elaine. Shirley was an incredible wife and mother, and loved every second of it.

Shirley was always very involved in First Baptist Church. She held various positions on the church board and together with Carl served as youth leaders. They took the youth group on snow trips, camping trips, and held many incredible parties in the church basement. Shirley was a master party planner and was always the life of the party - jokes were played and skits performed. She successfully played matchmaker to many of the youth in the church.
Shirley was a member of the Horseless Carriage Club of America and the Salinas Valley Antique Auto Club, where she and the girls would dress up in period costumes. Shirley and Carl made wonderful friendships and traveled extensively with their antique cars throughout the years. She was also a part of the local Red Hat Society.

After both daughters married, Shirley decided to pursue a new hobby - porcelain painting. Her love of fine china started when her grandmother had tea parties using fancy dishes. Shirley studied in Florida, Texas, and Arizona and was soon an accomplished artist. She was featured in multiple magazines and later enjoyed teaching children and adults to paint. She took inspiration from admiring Gods creation, especially roses, her favorite flower to paint.

Shirley was also one of the creators of the annual production "Streets of Bethlehem," a re-creation of the Christmas story at First Baptist Church. That amazing annual event continues to this day, almost 30 years later. She never missed an opportunity to share her love for Jesus.

Her favorite role however, might have been that as a Grandma to her four grandchildren. From the day that each of them was born, she was very involved in their lives and supported them in all they did. She loved having them over for tea parties and story telling. Carl and Shirley also traveled more than 300,000 miles in their motor home and most trips had at least one grandchild and many times had all four along for the ride. Solvang, Madonna Inn, Maine and Oregon were a few of their favorite trips. Shirley used every opportunity to teach her grandchildren manners, the value of hard work, chivalry, cooking, parallel parking and about her love of Jesus. She taught them to give back generously to the church and about serving. She knew how to have fun and to be serious as well.

She leaves behind her devoted husband Carl, and her sister Marilyn Bennett, her daughters and son-in laws, Cindy and John Broom, Sandy and Don Desmond, her grandchildren, Jenny Broom, Chrissy Mulholland, husband Brian, and soon to be great- grandbaby Mulholland; Brent Desmond and wife Marieke, Kylie Desmond and fiancé Tim Sloan; and numerous cousins, nieces and nephews. She will forever be remembered for her humor, her strength, and her love for family and for Jesus Christ.

Additionally, many thanks and love go out to Leslie Robinson, her caregiver and friend for the past six years, who has become like family, and Teresa Niccum, her physical therapist and friend.

Join us for a service of remembrance and celebration of her extraordinary life on Monday, February 24, 2020 at 11:00 am at First Baptist Church. Memorials can be sent to First Baptist Church designated to Streets of Bethlehem, 1130 San Vincente Avenue, Salinas, CA 93901.
Services
Celebration of Life
First Baptist Church of Salinas
1130 San Vincente
Salinas
,
CA
US
93901
Charities
First Baptist Church designated to Streets of Bethlehem
1130 San Vincente Avenue
Salinas, CA 93901