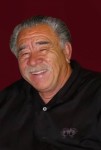 June 7, 1940
-
August 16, 2020
Born in Texas
Resided in

Salinas

,

California
Obituary
It is with a heavy heart, we announce that Robert Morales Perez Sr., age 80, of Salinas, passed away August 16th peacefully in his home in Salinas, after a short-term battle with cancer. Robert lived a fulfilling, spiritual, and purposeful life. He was born June 7th 1940 in Port Sullivan, Texas alongside eleven siblings, seven bothers, four sisters. Keno, Ralph, Chevo, Mike, Frank, Joe, Viviana, Connie, Thomasa, Fernando, and Juana. He moved to California in his early years where he met the love of his life, Eufemia Herrera. The two wed in September of 1960, and started their journey of marriage, producing three beautiful children Sylvia, Bobby, and Toni. They decided to call Soledad, California their permanent home and lived there the majority of their years. In his earlier years he formed and managed a successful family bakery business. After that, Robert worked a long career with the City of Salinas after retiring in 2005. To say he was a hard worker all his life is an understatement. Despite overcoming obstacles in life Robert always kept a great sense of humor and knew when and how to use it to make you smile. He was a warm, kind, down to earth soul. He enjoyed many hobbies including motorcycles, woodworking, painting, the outdoors and landscaping just to name a few and was a very talented artistic craftsman. His most honorable interest, however, would come to be known as his passion for Worship. He and his wife declared their faith for Christianity early on and helped spread the words of Christ. They devoted their lives to Christianity, becoming dedicated members at different churches through the years, Robert going as far as to help create new churches and help keep existing ones open. Whenever someone needed help or to borrow something, Robert was always willing to lend a hand to those in need in one way or another. His faith for God grew strong and Robert became a leader in his church, holding local bible studies, prayer, and worship at his home open to anyone that would attend. Later the couple would join a new up and coming church with a modern approach at Christianity called Victory Outreach. It is here where all of Roberts's wonderful characteristics shined even more. He helped people old and young see the meaning of Christianity. Robert wanted everyone to know the word of God and be saved in its glory. He accomplished many great things at Victory Outreach Church in Soledad and Salinas, California locations. He loved his fellow Christian brothers and sisters very much and gave all that he could to his Church. It was not rare to see him praying the power of Jesus over someone's life with his hand griped in faith over their head, or preaching on stage at a service, or leading a worship class. He touched the hearts of many during his years and many people loved, adored, admired, and were inspired by him, however none more than his family. Although Robert has gone to be with his Lord, his legacy of love, hope, strength and salvation will live on through his wife, children and grandchildren. Though he will be terribly missed more than words can express, we know he is joyful in heaven right now probably telling his "blonde" jokes with his belly shaking.
Robert is survived by his wife, Eufemia Perez; Daughters, Sylvia Perez of Salinas, Lonzo & Toni Osuna, of Salinas; Son, Bobby Perez Jr. of Salinas; Grandchildren, Roberta Perez Urquidez, daughters Autiana & Aubriana of Salinas; Robert Perez III of Los Angeles; Salina & Arnold Gonzalez, daughters Mariyah & Daija of Hollister, CA; Yesenia Perez of Salinas; Victoria Perez of Salinas; Jose Dominguez of Wichita Kansas; and Deborah Palacio of Salinas, CA.
Funeral services will be held as follows:
Service to be held at, Struve & Laporte Mortuary 41 W. San Luis Street Salinas, CA
Public walk through visitation, Friday August 21st 10:30-11:30 A.M.

Unfortunately due to the current pandemic and CDC guidelines, the service and burial will be limited to immediate family. Thank you for your understanding during this difficult time.
Services
Visitation
Struve and Laporte Chapel
41 W. San Luis Street
Salinas
,
California
93901