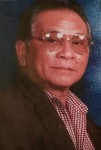 May 13, 1937
-
August 19, 2020
Born in Waialua, Hawaii
Resided in

Salinas

,

California
Obituary
Robert "Koy" Galbiso, of Salinas, California passed away peacefully on Wednesday, August 19th, 2020 in his home, surrounded by his family.

Born in Waialua, Hawai'i on the island of O'ahu on May 13, 1937, to Crispin Naldoza Galbiso and Rosalia Molar, he was the youngest of five children. While growing up in the small town of Waialua, Hawai'i, he was proud to be part of the first graduating class of St. Michael's Catholic school. It was also this island of O'ahu, in the city of Honolulu, where he would eventually meet his wife, Winona Galbiso, with whom they had 6 children. Throughout his life, Koy was the silent champion of the people and also the guardian of the family, especially that of his 32 nephews and nieces. Always taking the time to either feed or give money to the homeless or less fortunate. Koy and Nona had a huge passion for the caring of other families. They often took people from all walks of life and welcomed them into their home. Strangers from off the street, numerous nieces and nephews, fellow softball players, and others, at some point, lived with Koy and Nona at their Waialua home. One of their major accomplishments is that they are recognized as the first certified teaching parents of the State of Hawai'i, eventually, fostering hundreds of kids.

At a very young age, he had a strong passion for sports, particularly fast-pitch softball, then starting a canoe club and boxing gym in Waialua. Softball still remained as his primary focus eventually starting and overseeing several of the local softball leagues and tournaments. Koy was known throughout the Hawaiian islands for his accomplishments of coaching multiple teams of different age groups, winning multiple championships simultaneously. As a career highlight, he was the only coach in Hawai'i to win 5 championships in a single season through the 5 teams he coached all at once. Also awarded "Coach of the Year" for Hawai'i in 1984 which included awards and commendation from the Senate and House of Representatives of the State of Hawai'i. Everyone who personally knew Koy knew that he had an immense passion for the sport of softball and deeply cared for the athletes and their families.

In 1985, Koy and his family moved to Salinas, California where he began a career as a probation officer in Monterey County, while also continuing his passion for coaching and playing softball. He continued his success and reputation for being a disciplined softball coach and recorded numerous post-season accomplishments and championships in northern California. To further quench his thirst for the sport, he was also an active player on fastpitch and slowpitch softball teams. However, one of his happiest of softball moments was playing on a co-ed team that consisted of his 2 daughters Liane and Desiree' and his 2 grandchildren, Ikaika and Brianna.

In addition to his softball legacy, Koy was also a strong supporter of the Filipino and Hawaiian communities in Salinas. He and his family were an integral part of what these communities exhibit today, including his children and grandchildren who continue to be active in outrigger canoe racing and hula for Ke Kai O' Uhane of Monterey Bay.

We now honor his legacy. The Koy we know…the man who led by example was humble, loving, stern but very forgiving. A simple man, who clearly knew the meaning of unconditional love for his family and friends.

Koy, the youngest and last survivor of the 5 children, was preceded in death by his parents, Crispin and Rosalia, two sisters, Josephine and Genoveva, his two brothers, Frank and Moses, and his grandson, Kekai Dang.

He is survived by his wife, Winona "Nona" Galbiso, his three sons, Adam Dang, Daynon (Renee) Dang, Tavee Punsuk, his three daughters, Deanna (Mark) Snow, Liane (Dondi) Reyes, and Desiree' (Rick Lualemana) Galbiso, his 16 grandchildren, 6 great-grandchildren, and a lot of nieces and nephews.

Funeral services will be held at Madonna del Sasso Church located at 320 E. Laurel Dr., Salinas, CA 93906, Friday, August 28th, 2020 at 1:00pm. (Hawaiian attire preferred dress code.). However, due to the ongoing pandemic, a post-funeral memorial event will not be held.
Services
Funeral Service
Madonna del Sasso Church
320 E. Laurel Drive
Salinas
,
CA
US
93906