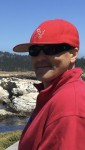 Richard "R$1"
John George
Seril
September 2, 1978
-
November 4, 2018
Born in Orange, California
Resided in

Del Rey Oaks

,

California
Obituary
R$1 Could Make You Laugh So Hard You'd Cry

Richard "R$1" John George Seril - Son, Brother, Uncle, Friend
R$1 was born one day apart from his mother, on September 2nd, 1978 and this Sunday, November 4th, 2018 marks the untimely and unexpected passing of a treasured individual. Richard died in the comfort of home, in peace, in Del Rey Oaks, CA. He will be sorely missed.
R$1 was born in Fullerton, CA and at the age of 2 moved with family to Monterey. In 1988 the family moved to the neighboring town of Pacific Grove and that is where Richard completed schooling through his attendance at Pacific Grove Continuation High School. After high school he began a career working with the long-time friends, Richard and Betty Griffith at Griffith's furniture. In 2007 Richard hit the road and began selling furniture in the towns of Nipomo, CA, Rancho Mirage, CA, Los Angeles, CA, and Victorville, CA before moving back to settle into the Monterey Peninsula in 2009. In January 2018 he traveled to Hawaii for the first time and found that he felt most at home both in the Monterey area and in Hawaii.
If- like Richard- you grew up in Pacific Grove during the 1990s, you and he may have crossed paths with wheels beneath your feet. He was an accomplished inline skater who competed in the first few X Games, joined Team Rollerblade, and was featured doing stunts in a commercial. With the money he made from the commercial as a teenager, he bought a Honda Civic which he continued to maintain and drive. He was meticulous and enjoyed projects to make his house a home. "Painting for me is my personal meditation." He kept his car and his quarters in perfect order. Richard especially enjoyed working with wood stains, a skill that came while employed at Griffith's Furniture.
As with inline skating, skateboarding, and hip-hop flow, Richard was also an accomplished glass blower. He had a Midas touch about any endeavor and could display mastery at almost any first attempt. His competitive nature drew him to chess, Jeopardy, and Trivial Pursuit. Being the only son among four children, he would captivate the entire family with side-splitting humor and unrelenting laughter that would cause cramps and emotionally move you. His intelligence was unflagging and his kind heart shone with a genuine concern for others, especially family. Most recently Richard had been exploring his interests with bonsai. He had a to-do list that shows us he was planning to cultivate his leadership skills in hopes of starting his own business.
R$1 is survived by his mother, Deneen Seril (Del Rey Oaks); his three sisters: Jennifer Browne (Monterey), Carri Newhouse (Marina), and Sasha Seril (Honolulu, HI); his nephew Stirling Newhouse (Honolulu, HI) and his nieces Juniper Newhouse and Kyndra Newhouse (Marina/Pacific Grove); and his father, Richard Seril (Plano, TX).
Memorial Services are planned for this Saturday, November 10th. There will be an 11:00 am Mass at St. Angela Merici, 362 Lighthouse Avenue in Pacific Grove. A celebration of life to follow.
In lieu of floral arrangements, please consider sending memorials to Bright Future Recovery (brightfuturerecovery.com) or St. Angela Merici (stangelamericipacificgrove.org) in his name.
Services
Memorail Mass
St. Angela Merici
362 Lighthouse Avenue
Pacific Grove
,
California
93950