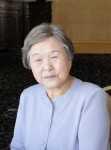 September 7, 1931
-
March 26, 2019
Born in Tashiro, Kagoshima Prefecture in Japan
Resided in

Salinas

,

California
Obituary
Noriko Yamashita was born on September 7th, 1931 in a small village of Tashiro near Hioki-City, Kagoshima Prefecture in Japan. She was the eldest of 7 children raised by Saneyo and Chieno Nagai. She grew up during the War and faced life full of hardships and danger. She was once strafed by a Grumman fighter plane during the War on the way home from school. She attended the Kami-Ichiki Elementary School in Hioki-City, Kagoshima, and Nougei Gakko (a farming school) in Ichiki-Kushikino City. After graduation, she attended a sewing school for 2 years and became a skilled seamstress. She worked for 2 years in Kagoshima-City, sewing men's suits after graduation. She married Michio Yamashita in 1953 and began her married life in Ichiki-Kushikino City, Japan. Her son, Tsutomu was born in 1954. Michio emigrated to the US in 1959 by himself, and she took care of young Tsutomu and aging mother-in-law and managed the small family farm by herself for the next 5 years. In 1965, she and Tsutomu came to the US to rejoin Michio. Noriko and Michio both worked at Iwasaki Nursery in Sunnyvale, California. In 1967, the family moved to Salinas to start their own flower nursery along with two other partner families. Her daughter, Mariko was born in 1968. In 1973, the partnership was dissolved, and Noriko and Michio started their own nursery, Yamashita Flower Farm. They also invited Michio's nephew, Kaneaki Hagihara from Japan to work with them at the nursery. They worked very hard at the business and it took many years of hard work in order to make the business successful.

Tsutomu went on to Stanford University to earn a doctorate in engineering, and he worked at a successful start-up company in Silicon Valley while Mariko attended UCLA and Cal Poly to earn a degree in biology. Mariko went on to manage the nursery after Michio passed away in 1998. Noriko and Michio enjoyed traveling to many places in the US and other countries, and Noriko took on many different hobbies which included practicing Japanese tea ceremony, calligraphy and Ohara school of flower arrangement. She attained a high level of skill in all of these activities. She spent a significant amount of her time and effort supporting the Buddhist Temple of Salinas, and she was a devout Buddhist. She was a supporter of the Salinas-Ichiki Kushikino Sister City Association from its inception. She was also a long-time member of the Salinas Valley Japanese American Citizens League (JACL). She possessed an incredible memory, often recalling conversations heard decades ago and she rarely forgot names. She had a near-photographic memory when it came to remembering people's family relationships. She also loved to read about history.

Her health began to deteriorate in 2016 with a major cervical bone surgery and a lower spine surgery later in 2017. This situation combined with the onset of Parkinson Disease led the family to decide to sell the nursery business in 2016 which had been in continuous operation for 43 years. Thereafter, Mariko devoted her entire time to providing care for Noriko, while Tsutomu returned to Salinas so that he can also be nearby. She passed away peacefully with her son and daughter at her side in her home in Salinas on March 26, 2019. She was 87 years old. She is survived by her son, Tsutomu Yamashita with his wife, Setsuyo, and her daughter Mariko Yamashita. She has two grandsons by Tsutomu, Mathew and Seiji. Also, her nephew Kaneaki Hagihara and his wife, Mitsuko and their son Jun Hagihara and his wife, Nanae, and daughters Kaori Sy with her husband Kevin, and Yuki Celestino with her husband, Jesse. Noriko cherished them as her own grandchildren.

The family would like to thank the following doctors and healthcare professionals for the kind and expert services that they have provided to Noriko, some over many years: Dr. Wayne Shen with Salinas Valley Medical Clinic, Dr. Keiko Saito and Dr. John Hausdorff with Montage Medical Group, Dr. Melanie A. Lising with Stanford Health Care, Dr. Praveen Mummaneni with UCSF Medical Center, and Jan Miller, OTR/L.CRT with Salinas Valley Medical Clinic. Also, the staff of Hospice of the Central Coast, Montage Medical Group who managed Noriko's care at the end. Finally, the family would like to thank Christine Gray for providing excellent home care to Noriko until the very end.

A Memorial Service will be held at Salinas Buddhist Temple on April 13, 2019 starting from 11 AM, located on 14 California Street, Salinas CA. 93901.
Services
Memorial Service
Buddhist Temple of Salinas
14 California Street
Salinas
,
CA
US
93901