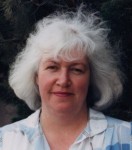 July 2, 1935
-
May 29, 2018
Born in Charleston, MS
Resided in

Salinas

,

California
Obituary
Always quick with the wit and the wisecrack, as well as being a bit of a ham, Margaret (Meg) Baker left us on May 29, 2018. Margaret was born in Charleston, MS on July 2, 1935, and while she moved permanently to Salinas, CA as a teenager, she never failed to claim her Southern Belle rights. Always up and at something, a childhood interest for her was corresponding with pen pals, and she had a number of them; one as far away as Japan, one was a Navy sailor. She and the sailor met when he stationed in San Diego - and, they fell in love! She married her sailor boy, and the marriage with Bill Baker lasted 49 years, ending with his passing in 2003.
Margaret had many interests in life, and pursued each of them with zeal. Most notably, she was a fairly accomplished local artist, working in watercolor, oils, and acrylics. She was a long time member of the Salinas Valley Art Association, as well as the Valley Art Gallery where many of her paintings were showcased.
She was also a lifelong singer, beginning with the Salinas High School Glee Club and in later years the Senior Singers Choir. She had her moment of fame on the local radio as a teen, and knew many songs by heart - it was not unusual for her to burst into the perfectly appropriate song in the middle of conversation!
Other organizations included the Merry Mixers Dance Club, Spreckels School and Home Group, Buena Vista Garden Club, the Best Cellar at the Steinbeck House, the Bunco Girls, VFW Women's Auxiliary, and the Buck Club.
Margaret is survived by her daughter, Kristi Ellington, and son Bill Baker, Jr. (Jill), grandsons David, Nick and Jeremy, and three great-grandchildren (affectionately known as 'my little kids') Tristan, William, and Liliana. She is also survived by her sister, Anita Scott, who was as much a friend as a sister.
For those of you who knew her, please join us in celebrating her life! Come with your stories and raise your glasses. We will be gathering at Elli's on South Main on Saturday June 9, 2018 from 1:00p.m.-4:00p.m.
Her wit was sharp and her laugh was large to the very end. She will be missed.
Services
Celebration of Life
Elli's American Restaurant
1250 S. Main Street
Salinas
,
California
93901