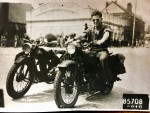 May 16, 1926
-
January 31, 2020
Born in Melton Mowbray, Leicestershire, England
Resided in

Salinas

,

California
Obituary
John Roslyn Trayford passed away on January 31, 2020 in his Salinas home. He was 93. He was born May 16, 1926 in Melton Mowbray, Leicestershire, England and was preceded in death by his parents, Cecil and Grace Trayford.

John, or "Johnny" as he was affectionately known by friends and family alike, had an incredible zest for life. With a sharp mind, big heart, and a wonderful smile, his sense of humor was always playfully evident.

Born in the United Kingdom, he spent his youth and young adulthood assisting his country in the war effort, eventually serving in the Royal Navy toward the end of World War II. He maintained an abiding love of flight and aircraft for the remainder of his life, often traveling to airshows and following groups like the Snowbirds and the Blue Angels.

Following the War, he emigrated to Canada, where he met his wife, Rae (McCliesh). They were married April 4, 1953 in Upper Darby, Philadelphia and honeymooned in Atlantic City. They started a family in Calgary, having three boys, before moving to Salinas in the early 1960s, where they put down long-lasting and deep roots.

Johnny was a master cabinetmaker, carpenter, and craftsman. Structures and projects all over the Monterey peninsula have his fingerprints in their foundations, and the work he did with the local carpenter's union apprenticeship program at Hartnell College ensured that his influence will last for many years to come. He personally fabricated two beautiful kayaks to use along the Monterey coast; seventeen feet long and made of striking mahogany, they are still in use today.

If his life could be marked by one feature, it was his wanderlust. Whether it was riding across North America on his Norton motorcycle, traveling across the globe to far-flung locales with Rae, or just driving up the coast to Moss Landing to watch the surf, seals, and birds, Johnny was always enraptured with exploring, earning the nickname "the Travelin' Man." A talented photographer, he often documented these excursions, leaving a delightful record of his family's growth.

In addition to his 50-plus years in the local Carpenters Union, he was a proud member of the Elks Club for 41 years. He could often be found there enjoying lunch and conversating with his many friends. He was also a member of the Captain Cook Society—owning more books about the British explorer than most bookstores. He also managed to get on board the Captain's ship, the HMS Endeavour, for a short voyage. He played the role of botanist, tackling his on-deck responsibilities with vivacity and care. It was a standout memory in a lifetime full of extracurriculars.

More than anything else, though, Johnny was a family man. His wisdom, humor, work ethic, and grace were treasured by his family on multiple continents, as well as an enormous network of friends, colleagues, and neighbors.

He is survived by wife of 66 years, Rae (McCleish); his sons, David (Cindy), Gary, and Brian (Elizabeth); his grandchildren, Miranda, Lindsay, Cassie, and Maci (David), John and James (Gary), and Griffin and Blaire (Brian); and great-grandchild, Olivia (Cassie); along with several family members internationally.

In lieu of flowers, memorial donations may be made to VNA & Hospice of Salinas, CA for their wonderful care of Johnny (www.ccvna.com).

There will be a Celebration of Life Saturday, February 15, 2020, 2:00p.m. to 5:00p.m. at the Salinas Elks Lodge, 614 Airport. Blvd. Salinas, CA. 93905.
Services
Celebration of Life
Salinas Elks Lodge
614 Airport Blvd
Salinas
,
CA
US
93902