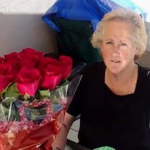 Jeanette
Diane
Rolandi-Nitzschke
February 15, 1949
-
October 20, 2020
Born in Salinas, California
Resided in

Greenfield

,

California
Obituary
Jeanette Diane Rolandi-Nitzschke Sr. of Greenfield, CA, passed away at the age of 71 on October 20, 2020, at Salinas Valley Memorial Hospital, Salinas, CA, with her husband and daughter by her side. A small service was held at California Central Coast Veterans Cemetery in Seaside, CA, this was possible due to George's service in the Army during Vietnam. She was born on February 15, 1949, in Salinas, to Harold and Martha (Lanini) Rolandi of Greenfield. She married George Gilbert Nitzschke Sr. on January 20, 1970, in Las Vegas, NV.

Jeanette affectionately called Sis by everyone that knew her loved to love on people who came around all ways greeted them with a warm smile. She would not let you leave the house without a cup of coffee or something to nibble on. She was very proud of her Swiss-Italian heritage, her family, and their ties to the Salinas Valley. My Dad was so taken in by the sharing of love by her Grandmother Emilia Lanini-Balemi and Step Grandfather Martin Balemi. He will say to this day, you do not get any better than those two.

Jeanette was proceeded in death by her father Harold Rolandi of Greenfield, Step Father Toni Viera of Greenfield, Brother Larry of Jamestown, CA, and Mother Martha (Lanini-Rolandi) Viera of Greenfield.

Survived by Husband of 50 years George G. Nitzschke Sr. of Greenfield, loving mother to Daughter Sandra M. of Greenfield, and Son George G. Jr. of King City, CA, a devoted Grandmother to Alexander N. of Greenfield. Also survived by Brothers David of Hartville, MO, and Thomas of Greenfield. She is loved and missed by many cousins, nieces and nephews, extended family and, close friends.

Jeanette graduated from King City High School class of 1967 then received her Cosmetology license in 1968 from Modern Beauty College and Burk's Salon Training in Salinas. She worked as a stylist until she married George. They left California in 1970 for Winamac IN, his home town, where they started their family and returned to Salinas after a short 4 years stay.

She worked for Bardin Elementary School as a Lunch Attendant during our years at Bardin. She also worked for Burger King as the drive-through order taker, trainer, and coordinator for new hires. She retired from Franmara Inc., working in the production stamping dept. She enjoyed attending First Presbyterian Church in Salinas and volunteering in the preschool Sunday class. She loved helping with our day camp at Toro Park, and during my Girl Scouts days... everyone would put her in charge of the craft projects. Even as a small child, I could see her face light up helping others.
Mama's hands were rarely still. Either attending to her family, working hard to build her dream outdoor living spaces, crafting, drawing, and cooking-baking. Her specialties were Polenta with stew and her famous Nitzschke cheesecake, but I know her cousins would say it was her Tom and Jerrys. Cheers! She also enjoyed the time spent on social media, keeping up with the family, or looking for that perfect new recipe to try. Every morning she spent time with her adopted cats, watching the sunrise with a cup of coffee sitting in her personal Starbucks lounge dad made for her. She loved spending time watching her hummingbirds put on a show for her (she almost got them to land on her finger a time or two.) After a long hard day, she enjoyed stargazing, watching for shooting stars, satellites, or space stations crossing the night sky sitting by the bomb fire with Dad. Every day, Mom and Dad had a project they worked on together hand in hand. They ended every night with I love you, babe, as they would tickle each other's hand before going to sleep.

Mom did what she loved the last day at home, working in her flower garden, and telling Dad what to do. We will miss the stories of family life growing up on the ranch and working in the fields. Our hearts are broken that you are no longer with us but overjoyed, you are up above watching over us and reunited with the best of the family. We love you, Swiss Mama 49, forever in our hearts, always in our thoughts and prayers.
Services
Funeral Home
Struve and Laporte Funeral Home
41 West San Luis Street
Salinas
,
CA
US
93901
2020-12-01T