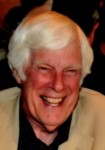 March 31, 1934
-
March 31, 2019
Born in Glen Ridge, New Jersey
Resided in

Salinas

,

California
Obituary
James L. Swenson, a faithful servant of Jesus Christ, an ordained Methodist minister for 60 years, a U.S, Army Veteran, a faithful husband and father, was called home on March 31, 2019 after a year long battle with melanoma.
Born March 21, 1934 in Glen Ridge, New Jersey, Jim moved to Southern California at the age of four with the family.
He graduated from Glendale High School in California, attended UCLA in 1952-53 where he played freshman football before being drafted by the Army during the Korean War. A last minute reassignment by the Army switched him to border duty in Germany for his two years of service from 1953-1955. Upon returning home, he graduated from the University of Redlands in 1958. It was at Redlands where he met his wife, Joan Annette Ashla, whom he was married to for 48 years, prior to her passing in 2004.
He received his seminary degree from Garrett Theological School at Northwestern University in 1962.
He was ordained by the United Methodist Church and his first appointment as pastor was to the First United Methodist Church in Big Bear Lake, California. In 1964 he and Joan were sent as missionaries to Hawaii where he was the minister at Aldersgate UMC in Honolulu before transferred to Kilohana UMC.
He then took a special assignment to serve as Director of Community Development at Palama Settlement, a social services agency in the Kalihi-Palama neighborhoods of Honolulu.
He was appointed by Governor Ariyoshi to serve as the first director of the State Health Planning and Development Agency, where he served from 1977-1981 before becoming executive director of the Hawaii Economic Development Corporation and Pacific Venture Capital.
In 1982 he returned to full time ministry and was pastor of Wahiawa UMC before being appointed District Superintendent for Hawaii UMC in 1984.
He returned to the mainland in 1990 and after a year at district UMC headquarters, Jim took a Senior Vice President post at the School of Theology at Claremont where he served until retirement in 1999 to Prescott, Arizona.
But Jim didn't really retire, he just transitioned into more volunteer work serving in the Prescott UMC, the local Lions club and the Smoki Museum. He also led work teams across the nation and the world helping those in need including New Orleans, North Dakota, Mississippi as well as Chile, Ethiopia, Guatemala and Kenya.
His final work was with Kairos prison ministries working with inmates at the Soledad state prison complex.
He is survived by wife, Ann Hansen of 13 years, son, Peter and daughter in law, Bella of Kaneohe, Hawaii, son, Mark of Gilbert, Arizona, nephew, Eric Swenson of Merced, CA, niece, Peggy Jacobson of Santa Cruz, CA, nephews, Jeff and Ron King, step sons, Brian and Christopher, four grandchildren, Andrew, Krystle, Paul (wife Autumn) and Michael Swenson, and three great grandchildren, Noah, Owen and Milo Swenson.
Memorial Services are Saturday April 20, 2019 at 3:00 p.m. at the First UMC of Salinas, 404 Lincoln Ave. And Saturday April 27, 2019 at 11 a.m. at the Prescott UMC, 505 W. Gurley Street, Prescott, Arizona.
In lieu of flowers the family asks that donations be made in Jim's memory to one of three charities: The First UMC of Salinas Endowment Fund or the First UMC Neighborhood Services Center, 404 Lincoln Ave, Salinas, CA 93901. Or to Kairos prison ministry, P.O. Box 2731, Salinas, CA, 93902.
Services
Memorial Service
First United Methodist Church
404 Lincoln Ave
Salinas
,
CA
US
93901
Memorial Service
Prescott UMC
505 W. Gurley Street
Prescott
,
AZ
US
86301
Charities
The First United Methodist Church of Salinas Endowment Fund
404 Lincoln Street
Salinas, California 93901
The First United Methodist Church Neighborhood Service
404 Lincoln Street
Salinas, California 93901
Kairos Prison Ministry
P.O. BOX 2731
Salinas, Calfornia 93902