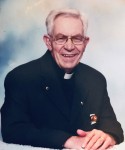 November 11, 1936
-
January 17, 2020
Born in Greensburg, Pennsylvania
Resided in

Salinas

,

California
Obituary
James Kenneth Laber was born to Alfred Laber and Mary Stehney Laber on November 11, 1936 in the Greensburg, Pennsylvania. He was received in the arms of the Lord after a battle with sepsis, pulmonary hypertension and congestive heart failure in Salinas Valley Memorial Hospital on January 17, 2020. It was a peaceful and painless departure surrounded by his children and loved ones from the Salinas community.

He was a grateful servant to many communities as a Christian Lutheran minister for over 56 years. Ken grew up in the small village of Hahntown, near Irwin, PA. He was a lifelong Lutheran and was confirmed at Grace Lutheran Church in Irwin. Ken graduated from North Huntingdon High School in 1956 and spent two years studying chemical engineering at Carnegie Mellon University in Pittsburgh, PA. During the summer after his sophomore year, he worked as a youth counselor at Camp Lutherlyn in Prospect, PA. Spiritually inspired by his work at this Christian camp, Ken felt a calling to become a pastor and chose to explore the ministry as a career. He transferred to Thiel College, in Greenville, PA and graduated two years later. Following graduation, he attended Lutheran Theological Seminary in Philadelphia, PA and was ordained as a minister in the Evangelical Lutheran Church in America in June of 1964. The same month, he married Susan Thomas Boesch, his college sweetheart from Thiel.
Over the next six years he and Susan faithfully served in two churches in western PA: St. Johns in Girard and Grace Lutheran in Rochester, PA. During this time, they had two children, Christian, born in 1965 and Heidi, born in 1967.

In 1970, he moved his family to St. Peter's Lutheran Church in North East, Pennsylvania. He and Susan spent the next 45 years serving communities in Erie County and the region providing spiritual and religious education, praying with those infirmed in local hospitals, advocating for underprivileged, securing educational opportunities for the underserved, participating in local and world hunger drives, supporting the imprisoned, promoting environmental concerns for a greener environment, and serving as a board member of the Lutheran Home for the Aged. In his later years, he served as an interim pastor for churches throughout western PA. His life was devoted with unending enthusiasm to serve God and those in need. After retiring in 2018, he and Susan moved to Salinas, California to be closer to his children. They joined the Lutheran Church of the Good Shepherd. He enjoyed worship and many Sunday luncheons with fellow Lutherans.

Ken enjoyed many outside interests: band music, attending lectures at the Chautauqua Institute in New York, serving on the Board of the Northwestern Pennsylvania Band, and being a member of the Erie Lions Club. He was a huge sports fan Pittsburgh Steelers, Penguins, and Pirates as well as the University of Pittsburgh sports teams He was a dedicated cheerleader to his children's athletic endeavors at North East High School and Wittenberg University. When his daughter taught yoga to Salinas High Football team his fall, he became a devoted fan of the Salinas High Cowboys, cheering them on throughout their successful undefeated 2019 season. Ken also treasured watching baseball and Golden State Warriors games with his son-in-law Jean Paul.

Pastor Laber is survived by his wife Susan, daughter Heidi Diouf and her husband Jean Paul Diouf of Salinas, CA; his son Christian Laber and his wife Ellen Laber of Ventura, CA, and seven grandchildren: Henriette Diouf, Noah Laber, Benjamin Laber, Caroline Laber, Kaikoura Laber, Jackson Laber, and Micah Laber; cousin Mary Anne Stehney of Irwin, PA, niece Laurie Gillotte, nephew Jeff Laber, brother-in-law Fred Boesch and nephew Rick Boesch.

In lieu of flowers, the family requests memorials be given to the ELCA Lutheran World Hunger Relief program:
https://community.elca.org/elcaworldhunger?_ga=2.81211667.525077639.1579478026-806612832.1579478026

And their work to help with relief in developing countries; Lutheran World Lutheran World Relief:
www.lwr.org

Ken Laber's celebration of life will take place Saturday February 22, 2020 at Lutheran Church of the Good Shepherd, 580 Larkin St, Salinas, CA 93907 at 10am with an informal gathering with lite bites and tea following at 130 Oak Street.
Services
Celebration of Life
Lutheran Church of the Good Shepherd
580 Larkin ST
Salinas
,
CA
US
93907
Charities
ELCA Lutheran World Hunger Relief Program
8765 W. Higgins Road
Chicago, Illinois 60631
Lutheran World Relief
P.O.BOX 17061
Baltimore, Maryland 21297-1061

www.lwr.org