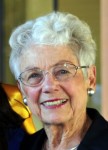 May 13, 1926
-
January 28, 2018
Born in Santa Monica, California
Resided in

Salinas

,

California
Obituary
Jackie was born in Santa Monica. California on May 13, 1926 to Charles and Reathel Teets. She passed away on January 28th in Salinas Valley Memorial Hospital with her family members surrounding her.

She attended Santa Monica High School where she served as a cheer leader and as Secretary of the Student Body. During those days Santa Monica was a delightful small beach town separated from Los Angeles by several miles of farmland. It was a great place to grow up in. During her high school years she and her friends would spend weekends on the Santa Monica beach and many Friday nights at the Hollywood Palladium listening and dancing to the live music of many of the Big Bands of that era including Glen Miller, Harry James and especially Tommy Dorsey with his then young vocalist, Frank Sinatra. And it cost only one dollar for admission. She and the others thought this was nothing special about Santa Monica and that every town had something similar!

After high school she attended and graduated from USC, majoring in Physical Education and was active in student body activities, served as President of her sorority Alpha Chi Omega and was selected as "Queen of the Ball" by several Fraternities. During that time while visiting her brother at Stanford University she met a number of his friends there. Among them was Jack Armstrong. About a year later while on vacation in Southern California, and in need of a date, Jack called her home hoping she would be there and luckily she was. They had that first date, and sparks immediately flew between the two of them. After her graduation Jackie took a job as a P.E. teacher at Bakersfield High School, and the two of them decided that Salinas was not all that far from Bakersfield. Thus began a long distance courtship that put many miles on both of their cars.
Then in early October, 1950 Jack popped the question, she accepted and they made plans for a wedding the following June. One week later Jack received a telegram from the U.S. Navy recalling him to active duty with instructions to report to the Bayonne, New Jersey Naval Base in two weeks.

At that they decided to get married the next weekend in Santa Monica; and remarkably Jackie and her mother put together a beautiful church wedding with over 200 people in attendance and the reception at the family home. The honeymoon consisted of a one week trip driving across the country on mostly 2 lane highways enabling Jack to report for duty on time. Two years later, after their Navy duty they established their home in Salinas where Jack was employed in the produce business.
Jackie loved people and had a warm and infectious smile. She and Jack had 67 happy years together during which she raised their three children, Sally, Bruce and Bill with both love and discipline. The three kids, who she led to believe she had eyes on the back of her head, lovingly called her "Mother Bear".
Jackie was active in community affairs. She was a member of the junior league and volunteered at both the Natividad Hospital and as a manager of the Steinbeck House dining room and was a former member of both the P.E.O and the Buena Vista garden club.
She also enjoyed playing golf as a charter member of Corral de Tierra country club and bridge as a member of several local bridge clubs. She and Jack also loved to travel and enjoyed a number of trips to Europe, the South Seas and especially to Hawaii where they would spend several weeks during the winter playing golf. She also enjoyed spending summer time with the family at the family cabin along the upper Carmel river in Cachagua.

Jackie, as a girl, spent a number of summers on her mother's family' cattle ranch in Colorado and learned to love ranch life and horses. She always wanted to live in the country and raise and train horses. So after her three kids left home she and Jack acquired a 95 acre "hobby ranch" off of River Road. There they built their retirement home complete with a horse barn and corrals. Jackie loved breeding, raising, training and riding her horses. They also had several ponies she used to teach each of her grandchildren to ride and enjoy horses safely. They also had an old military jeep on which each of the grandchildren learned to drive by driving around the ranch.

Perhaps her warmest legacy will be remembered by the 23 large Christmas stockings that she knitted for every one of her family members, each with a different design and the name and birth year of each recipient.

Jackie is survived by her husband Jack, her children Sally McDaniel (Terry), Bruce (Rita) and Bill (Dana). She is also survived by her 7 grandchildren 6 Great grandchildren and by her nephew Larry Teets and her niece and namesake Jackie Teets both of Arizona. She was preceded in death by her parents Charles and Reathel Teets and her brother Arthur Teets.

The family is especially appreciative of the wonderful help given by Jackie's two care givers Alai Nau and Pou Manoa and by Doctor James Dacus and the doctors and nurses at the Salinas Valley Memorial Hospital ICU, with special thanks to Doctor Anthony Floreani and nurse Dana Rogers.

A Chapel Service will be held 11:00a.m. Saturday, February 10, 2018 at Struve and Laporte Chapel, 41 W. San Luis Street, Salinas, CA. 93901

Entombment to follow at Garden of Memories Cemetery, 850 Abbott Street, Salinas, CA. 93901.
Services
Funeral Service
Struve and Laporte Chapel
41 W. San Luis Street
Salinas
,
California
93901
Entombment
Garden of Memories Cemetery
850 Abbott ST
Salinas
,
CA
US
93901