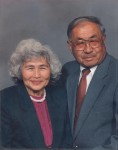 April 8, 1926
-
November 11, 2017
Born in Salinas, CA
Resided in

Salinas

,

California
Obituary
Henry Hideo Teraji 04/08/1926 to 11/11/2017

Henry Hideo Teraji joined his wife Marjorie in heaven on Veterans' Day, November 11, 2017. He was born in Salinas on April 8, 1926, the second child of Frank Eizo Teraji (1894-1995) who immigrated from Ota, Wakayama-ken, Japan, in 1913, and Mary Toshizu Sogabe (1905-1994), who came from Japan in 1921. After the McCarran-Walter Act was enforced beginning Dec. 24, 1952, Henry's parents took the opportunity to become U.S. citizens. In one of the proudest moments of their lives, his parents were sworn in as the first naturalized Japanese citizens in Salinas and in the entire district at the Salinas Superior Court in Sept. 15, 1953.

Henry's father was one of the first farmers in the Salinas Valley to start using a tractor for cultivation instead of horses. Henry and his 3 siblings grew up on their parents' farm on the Monterey Highway (68) in Salinas, where they produced some of the first lettuce in the Salinas Valley. Years later (in 2011), their farm was featured in a display on Japanese history in Salinas at the National Steinbeck Center. Henry couldn't get over seeing photos of his own family and farm from the 1920's enlarged and mounted in museum-quality displays.

The saddest day in Henry's childhood occurred on January 15, 1937 when he was just 10, and his sister Emiko, age 12, was very ill. As he was lying there beside her, she told him that she was dying, "No, you're not," he said, but she died moments later.

While Henry was attending Salinas High School, the U.S. went to war with Japan, which caused his father to decide to voluntarily evacuate his family in order to avoid the forced detention of being placed in an internment camp. Against the advice of others who said he should sell, Frank leased his farm land to the Gallon Company, and entrusted his house to a realtor. He placed an order for a Southern Pacific freight car to transport his farm equipment and furniture, but as the days passed, he began to fear that the FBI might detain his family after their goods were loaded on the train. He decided to sell his farm equipment. He hired a truck forwarding company to load his furniture for transport.

The family was eating a meal when they received word that their neighbor had been taken away by the FBI, so they hastily fled ahead of the FBI, arriving in Placerville in the dead of night, where they stayed hidden in a hotel. They made their way to Grand Junction, Colorado, where they became the first Japanese evacuees on March 30, 1942. Other farmers followed after them, and the Japanese and Japanese-American farmers in the community were able to farm there and avoid internment throughout the war.

In Grand Junction, Henry graduated from high school one year early in order to enlist in the Army. He was given a choice of serving in Germany or Japan. He chose Germany because he had already visited Japan as a child. He was on his way, ready to fight, outfitted with his new uniform, trained and rifle ready, when, after just a couple of days out at sea, Germany surrendered. It was the biggest disappointment of his life—he wanted to fight for his country. The ship kept going, and he served in Germany as part of the occupying force. He earned sharpshooter and gunner/with machine gun awards as a Corporal Technician, 5th grade.

Henry said that restaurants in the U.S. often questioned anyone who looked Asian. He would be asked whether he was Japanese or Chinese. If he said he was Chinese, he was allowed to stay and eat. If he said he was Japanese, he was told to leave. It would have been so easy to just say he was Chinese, but he told me he never once denied being Japanese-American. He said, 'I just kept going on to the next restaurant I found, until somebody was willing to serve me."

After the war ended, the family's gamble paid off; the U.S. Government had not seized their farm. On his happiest day, Henry, in his Army uniform, drove a large truck, followed by his father driving a pick-up, with his mom driving a sedan, and they all returned to their old home in Salinas in triumph and high spirits!

Later, Henry went on to work as a houseboy for an extremely wealthy widow in San Carlos. He enjoyed living in her mansion and cooking, cleaning, driving, and taking care of the grounds. But farming was his love, so he moved on to work as a sharecropper for 7 years.

When he finally owned his own farm, he grew dry beans on Old Stage Road and was able to buy his own equipment for the first time. He said he was always in debt, but "That was the best time. You're on your own. I took a chance, but somehow it always worked out."

One of the highlights of Henry's career was when he was hired by Basic Vegetables as a General Manager for 7 years in Lovelock, Nevada. He was given more responsibility than ever before, handling the hiring of a large number of Paiute Native American and Mexican farm workers. He arranged the logistics of their travel to Lovelock, apartments for their families, payroll, and work schedules. It was a challenge to keep all the equipment running. He was in charge of raising onions and garlic, and it required him to have specialized knowledge for fertilizing and irrigating at just the right times in order to keep from stunting the growth of the garlic. When he found that Lovelock did not have enough fertilizer for their needs, he had to come all the way back to Salinas and hire a company and workers and bring them to Nevada to get enough fertilizer to the fields.

He did so well that he received a job offer to go grow garlic for a company in Morocco, and he very much wanted to go. But he felt Basic Vegetables was counting on him. He said, "There's a principal involved; it wouldn't be right."

While he enjoyed the perks of a new company car every year (El Camino) and maid service, he said of working for big companies, "You're not happy. Your own operation is the best; it's a better life." When Gilroy Foods bought out Basic Vegetable, Henry happily returned to independent farming.

Henry's father became a Christian on Jan. 28, 1923, at the urging of his brother-in-law, Zentaro Yamamoto. His faith and values were the ones with which Henry was raised. Henry believed in honesty, working hard, keeping your word, and obeying the Ten Commandments. He encouraged his 4 children to watch Billy Graham on TV as they were growing up, saying, "Watch this--it's good for you!"

After his farming career came to a close, Henry earned his real estate license and began selling homes; he helped family members and friends buy houses and co-signed on their loans; he helped re-negotiate the retail lease in downtown Salinas of his friend Yoshitaka Moridome of La Fogata Restaurant for many years. When Henry was your friend, he was your friend forever.

In his 60's, he bought out a gardening and yard service route and took over maintaining all the yards, as well as volunteering as a Meals on Wheels driver. He supported many charitable causes, including veterans' organizations.

He kept one of his father's 15-acre farms on the edge of town on Highway 68 to the end of his life, leasing it to Tanimura & Antle. One of his greatest enjoyments was a weekly drive around the farm to see how the crops were progressing.

He was pleased that his life had turned out to be financially secure in the end, despite many hard times. He noted that many seniors still have to work to make ends meet, but that he did not have to. He summed it up by saying, "I don't have to eat beans."

He was married to his wife, Marjorie Yaeko Ninomiya, just 3 months shy of 50 years. He was devastated to lose her in 2003. He said, "Life is so short; it's like a dream—it's hard to believe she's gone."

At 91, he said, "I don't want to die, but I know I will; that's 100 percent sure. There's no getting out of it," he said laughing, "But I want to live as long as I can."

One of the last things he said was, "I like to think about what life is about. The Bible has all the answers."

Henry was preceded in death by his daughter Judi (9/8/71 to 12/11/71), his beloved wife Marjorie, his brother Bill (US Marine Corps), and his sister Joyce Masuda. Henry is survived by his sister-in-law Elsie Teraji and nephew Joseph; 4 sons: Stewart, Roland (Lydia), Jonathan (Navy Reserve) (Christine), and Stephen (Katherine); 3 granddaughters: Mary, Sharon (Steve), and Victoria; 2 step grandchildren: Samara and Aaron Simeone; 1 great granddaughter, Eden Elizabeth Teraji-Coe; his nephews Bruce (Joanne) Asada and Lance Teraji, niece Brenda (Scott) Oshita; great niece and nephews Jeff, Stacie, and Tricia, as well as many descendants in Watsonville of his aunt from Japan, Oto Teraji-Yamamoto, and 1st cousin Lena Shigeko Yamamoto Gabel in Salem, Oregon.

Services will be held on December 9, at 11:00 a.m. at Lincoln Avenue Presbyterian Church located at 536 Lincoln Avenue, where Henry's father was a charter member, with a reception to follow.
Services
Service
Lincoln Ave. Presbyterian Church
536 Lincoln AV
Salinas
,
CA
US
93901