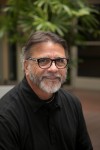 Gregory
"White Shoes"
Gomez
March 18, 1954
-
May 4, 2020
Born in Salinas, Califoria
Resided in

Salinas

,

California
Obituary
Surrounded by his family, Gregory "White Shoes" Gomez passed peacefully at his home on May 4, 2020 in Salinas, CA. Greg was 66 years, born on March 18th to Trinidad and Lupe Gomez. He attended Salinas High School where he graduated in 1972. Shortly after high school Greg met Barbara Holloway, literally the girl next door. Their friendship blossomed and 47 years later they remained each other's soulmate.

Greg was a lover of music. Self-taught on his guitar he could shred Clapton licks with the best of them. Through the years he was in many local bands, from Nashua Road in the early '80s to his current band, Silvertrain. Silvertrain, with Mike Clark, Tom Duncan, Jim Smith and Richard Zuniga, aka Zuni, were family to him. Greg played for the love of music, truly enjoying himself and being on stage with the band. He played many local venues, weddings, private parties and his most memorable venue at the Viper Room in Los Angeles. Greg was a wonderful, joyful performer; the crowds couldn't help but find themselves dancing, clapping and singing along.

As a lover of music it naturally follows that live music also ranked high on Greg's list of things to do. Clapton, Santana, Elton John, Paul McCartney, he never missed an opportunity to see a show with Barbara and other friends. They were regulars at big stadium extravaganzas and local outdoor festivals. Getting out and supporting other musos in their bands or joining Uncle Dan's open jams were also favorite pastimes.

As a musician Greg knew personally how a band feeds off the energy of the crowd so he would unabashedly cheer the music as it infused his soul. Always the inveterate musician, he liked to work his way to the front where he could be close and personal with the band. He would study the hands of his idols, noting chord voicings and arrangements. After a show Barbara would often find him in his music room teaching himself the new tunes, perfecting the chords so that he could play like the best of them.

While music was his love, his exuberant spirit was Greg's trademark. As a seasonal worker he was blessed with "time off" which was not wasted. A kid at heart he regularly joined his children with chalk drawings, ball games and water hose fights. He was often the lone dad volunteering in the classrooms passing out cupcakes and jokes, making teachers so appreciative to have a smiling male role model. He was the lone dad picking up his kids….in their '67 Volkswagen camper van or on his Harley (helmets, of course). In fact, Greg was the favorite with all the kids in the neighborhood, many of whom still think of him as the cool dad on the block. More recently his grandchildren have been treated to the kid in their "Papa" with those same water hose dousings in the backyard.

Greg's magical energy was not reserved for young people. He was a longtime 49er fan who had season's tickets from the days of Candlestick stadium. He, Barbara and their children spent many a Sunday tailgating in the parking lot before cheering their team. Greg had a gift of conversation, an extraordinary ability to strike up a conversation with anybody easily making you feel you were his new best friend. Inevitably, before kickoff Greg had met all the folks parked nearby, sharing a beer, tri-tip and highlights of games past. On away games Greg and Barbara could be found at his parents' house for the game. Along with his mom they would jump out of their chairs to cheer, and bemoan, the 49ers as if they were in the stands. When Super Bowl rolled around the Gomez house was decorated in football regalia, filled with friends and family. Greg's playfulness abounded and everyone went away from these parties, in fact any party with Greg, with a smile on their face.

Greg worked in agriculture, most recently for Nunes Cooling, Co. for 47 years until he retired in 2017. As he settled into retirement he enjoyed gardening and sitting in the backyard with Barbara, his children and grandchildren, listening to music and playing his guitar. He was not one though to slow down, still playing gigs with Silvertrain and hosting the family holiday gatherings. He was the master of the bar-b-que, the consummate host yet still the kid, with an infectious smile, who wouldn't grow up.

Gregory is preceded in death by his parents, Trinidad and Lupe Gomez.

He is survived by his wife Barbara (Hollaway) Gomez; son Keith (Gillian) Gomez, daughter Julie (Vincent Rowe) Gomez; grandchildren, Kalysta, Kashton, Emilia, and Everly; sisters Mary Ellen, Patricia (Frank Seiple), and brother Trinidad; and many nieces and nephews.

Due to the current situation we are strictly enforcing only 10 people at a time in our chapel.

Services: Visitation on Saturday, May 9, 2020 from 12:30 pm- 4:00pm at Struve and Laporte Funeral Chapel, 41 West San Luis St. Salinas, Ca. 93901.

Graveside service on Monday, May 11, 2020 at 2:00pm at the Garden of Memories Memorial Park, Salinas, Ca. 93901.

In lieu of flowers donations can be made to: The Trinidad & Lupe Gomez Family Fund at the Community Foundation, 2354 Garden Rd. Monterey, Ca 93940.
Services
Funeral Home
Struve and Laporte Funeral Home
41 West San Luis Street
Salinas
,
CA
US
93901
2020-10-20T