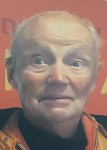 September 9, 1928
-
June 9, 2018
Born in Albany, New York
Resided in

Salinas

,

California
Obituary
George Malcolm McKay of Salinas passed away June 9, 2018, after a brief illness. He was 89.
Almost everyone in Salinas knew George, seeing him ride his bike up and down Riker Street daily as he went for his 40-lap swim at the YMCA, or to sing in local choirs and volunteer with various organizations. One could always count on Mr. McKay, and that includes the National Weather Service, to which George reported daily with the temperatures and rainfall.
He was born on September 9, 1928, in Albany, New York, to Elizabeth and Malcolm McKay, both of whom preceded him in death. He was the oldest of four children. His brothers, Edward and John, both predeceased him, while his sister Margaret survived him by four days, passing away June 13 after a long illness.
During his youth, George lived with his family in England, Oregon, Southern California, and Canada. He was a veteran of the U.S. Marine Corps, serving during the Korean Conflict. He was a graduate of Lewis and Clark College in Portland, Oregon. Also in Portland, he met Joann McCarthy in a young adults' group at Trinity Episcopal Church. They married on September 10, 1955.
A Salinas resident for more than 55 years, George worked more than 25 years with the Monterey County Department of Social Services, retiring in 1988. He was a long-time member of St. Paul's Episcopal Church in Salinas. Even to his final days, he sang in the St. Paul's choir and the Senior Singers, was a volunteer official weather observer, and was in the Same Page Book Club.
For many years, he also had been a docent at Point Lobos and the National Steinbeck Center, volunteered for Meals on Wheels, and sang with the Hartnell Community Chorus.
He was a familiar sight in Salinas on his bicycle for his daily trip to the YMCA, even on the day before he went into the intensive care unit of Salinas Valley Memorial Hospital.
He enjoyed traveling to many places throughout the world, with a particular fondness for trains and ships. He was an avid hiker and nature lover, with a photographic memory for dates, as well as the weather for each day. In addition to singing, he enjoyed playing the piano, sometimes at the senior lunches.
George is survived by his wife of nearly 63 years, Joann; and his son Andrew, one sister-in-law, five nephews, two nieces, three great nieces, one great-nephew, and a number of cousins.
The family would like to extend thanks to the staff in the ICU for all their support during his final days and passing.
A Celebration of Life will be held on Friday, July 6, 2018 at noon at St. Paul's Episcopal Church, 1071 Pajaro St., Salinas CA 93901. He will be inurned at the St. Paul's Episcopal Columbarium.
In lieu of flowers, please donate to St. Paul's Episcopal Church or to Donor's Favorite charity.
Services
Celebration of Life
St. Paul's Episcopal Church
1071 Pajaro St.
Salinas
,
CA
US
93901
Inurned St. Paul's Episcopal Columbarium
St. Paul's Episcopal Church
1071 Pajaro St.
Salinas
,
CA
US
93901
Charities
St. Paul's Episcopal Church
1071 Pajaro Street
Salinas, CA 93901
Donor's Favorite Charity