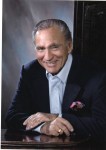 May 31, 1931
-
November 6, 2019
Born in Salinas, California
Resided in

Pebble Beach

,

California
Obituary
Frank Robert (Bob) Nunes, 88, passed away peacefully on November 6, at his home in Pebble Beach, California, a short distance from the Salinas Valley where he grew up and made his career. A child of Portuguese immigrants, he came from humble beginnings and lived an enviable life. He was an authentic example of the American dream. He was raised on a farm in Chualar, California, and through hard work, family love, and education, he enjoyed personal independence, culminating in a creative and determined vocation in the produce industry. Bob was owner and co-founder, with his brother Tom, of the Nunes Company, one of the most recognized and respected fresh produce companies in the United States.
Bob loved to snow ski in winter and waterski in summer, play tennis and golf. He was at his most relaxed when sitting alone on the end of a pier contemplating the beauty of Lake Tahoe. Intuitive, with a killer instinct, he was his truest self during one of his extended breakfast breaks while produce buyers phoned in eager to buy lettuce. He would leave the office to let demand rise; when he'd return, he'd get his price. He was competitive in all things, but also honest and fair. Throughout his lifetime he sat on many boards and received industry awards.
In high school he ran track and played football, and as an undergraduate in college, he boxed in the ring. He loved to travel and spent many months of his life venturing to far-away lands, bringing back stories of other cultures and people he had met. He was a wanderlust, a romantic, and a gentleman. Mostly, he loved to return to the small-town community where his family and friends lived and worked alongside him. Always, he would visit his mother and father, dropping by their home after work, often with his two children, Bob and Kim. His catholic faith was a mainstay, and helped him through challenging times, when he lost his companion and love, Marie Woerz, and in the final years and days of his life.
From the mid-fifties and to this day, he worked hard and built produce businesses with his beloved brother Tom. Throughout his many successes, he lived by the simple philosophy: "when the cup runs over, spread it around." Continually concerned for the people in his community, his businesses became and remain standard-bearers of ethics and responsibility in the produce industry. He spent his last years doing his best to "help the very young, the very old, the very sick, those who cannot care for themselves, and animals." As a child, he wanted to start a Boys Town for Dogs. Through his support of the SPCA, Peace of Mind Dog Rescue and other endeavors, he nearly did.
Born in 1931 to Thomas and Eva Nunes, Bob was a middle child. He revered his older brother, Tom Nunes, and cared deeply for his little sister, Marilyn Classen, 1937-2007. Bob attended Salinas High School and graduated from Stanford University with a degree in economics. He is survived by his son Bob Jr. and daughter-in-law, Kim, daughter, Kimberly, five grandchildren, a niece, nephews, his brother Tom, many good friends and many good people with whom he worked and deeply respected. He has lived the past fifty years in Pebble Beach, still driving to the office every day. In one of the last times he spoke, he said: "I wish I had spent more time talking to my employees in the hall at the office." He stayed close to his children and grandchildren throughout their lifetimes, imparting wisdom, humor and much love. Always living by his word, he believed, ultimately, that a man's word—his most precious asset—is all he ever really has.
In addition to serving on the board of directors for Produce Packaging Association and Western Growers Association, Bob also served on the boards of Grower-Shipper Vegetable Association, American Institute of Food and Wine, and Salinas Valley Memorial Hospital Foundation. He served as President of Central California Lettuce Co-op.

In 2007, Bob was recognized for his generous support of both produce and community endeavors as the recipient of the E.E. "Gene" Harden Lifetime Achievement award by the Grower-Shipper Association of Central California. He also received the Hall of Fame Award from the National Steinbeck Center and the Distinguished Trustee Award from the Community Foundation of Monterey County in 2010. His philanthropic outreach was recognized by the Alex de Tocqueville Society of United Way.
Visitation will be held 3:00p.m. to 7:00p.m. Thursday, November 14, 2019 at Struve and Laporte Chapel, 41 W. San Luis Street, Salinas, CA. 93901.

Rosary will be 7:00p.m. Thursday, November 14 2019 at Struve and Laporte Chapel.

Funeral Mass will be held 11:00a.m. Friday, November 15, 2019 at St. Joseph's Church, 1 Railroad Avenue, Spreckels, CA. 93962.

Burial will follow at Queen of Heaven Cemetery, 18200 Damian Way, Salinas, CA. 93907.

Celebration of life following at Corral de Tierra Country Club, 81 Corral de Tierra Road, Salinas, CA. 93908 beginning at 1:00.
Services
Visitation
Struve and Laporte Chapel
41 W. San Luis Street
Salinas
,
California
93901
Rosary
Struve and Laporte Chapel
41 W. San Luis Street
Salinas
,
California
93901
Mass
St. Joseph's Church
Railroad AV and Spreckels Blvd
Spreckels
,
CA
US
Burial
Queen of Heaven Cemetery
18200 Damian Way
Salinas
,
CA
US
93907