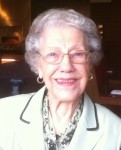 June 3, 1925
-
May 5, 2018
Born in Newark, New Jersey
Resided in

Salinas

,

California
Obituary
Edith Barbara Beninate passed away peacefully at Carmel Hills Care Center from complications due to cancer early in the morning on Saturday, May 5, 2018. She was 92 years old. She was proceeded in death by sister, Frances Petoia in 2014.
Edith was born on June 3, 1925, in Newark, New Jersey. She was the middle daughter of Italian immigrants, and she took great pride in her Sicilian heritage. As a young girl she enjoyed a life that included being part of a very close Sicilian community and church community which were the source of many stories she would tell at family gatherings.
Edith enjoyed school and upon completion of high school she was very excited to start working. She worked as a secretary for several large organizations including the legal department of Bank of America (formerly Bank of Italy) and finished her career as an administrative assistant for the County of Essex in Northeastern New Jersey (NY metropolitan area). After her retirement, Edith decided to move to Salinas, California to be closer to her daughter, Nicolette T. Pasculli and her three grandchildren, Matthew, Rachel and David. Her grandchildren gave her tremendous joy and she spent many days of the week with them as they were growing up.
Edith was very close to her sisters, Frances (deceased) and Leonora (of Staten Island, NY). She was also very close to her nephews and nieces. She loved her entire family and always enjoyed going back east to see her many nephews, nieces, grand nephews, grandnieces and yes even great grand nephews and nieces. From New Jersey, New York and Massachusetts, she was always up for a visit and travel until the age of 89.
In addition, Edith was a volunteer for the Salinas Valley Memorial Hospital Volunteer Service League and enjoyed almost 10 years of working as a volunteer in the gift shop, volunteer office and visiting people in the hospital. She was a very independent woman, who was very proud of the fact that she maintained her own apartment in south Salinas until the age of 91.
Edith loved to tell stories and was really great at it too. Her stories always made people laugh as even in everyday life she found things to be humorous. As one family friend said, "Edith was the 'Queen' of one liners." One thing is for certain, she always spoke her mind and you always knew where she stood an any issue from religion to politics. Edith loved being a Roman Catholic and prayed her Rosary everyday as well as staying glued to EWTN and her favorite Mother Angelica.
Edith Barbara Beninate is survived by her only daughter, Nicolette (Nick), and grandchildren Matthew, Rachel and David as well as her sister, Leonora Vaccaro.
A Funeral Mass will be held on Thursday, May 24, 2018 at 3:30 p.m. at San Carlos Cathedral, 500 Church Street, Monterey, CA. 93940.
An additional Funeral Mass will be held 10:45 a.m. on June 5, 2018 at St. John Vianney, 420 Inman Avenue, Colonia, New Jersey, 07067 followed by Christian Burial at St. Gertrude Cemetery, 53 Inman Avenue, Colonia, New Jersey 07067.
In lieu of flowers the family is requesting donations be made to: Ariel Theatrical, in Memory of Edith Beninate, 320 Main Street, Salinas, CA 93901 .
Services
Funeral Mass
San Carlos Cathedral
500 Church ST
Monterey
,
CA
US
Mass
St. John Vianney
420 Inman Avenue
Colonia
,
New Jersey
07067
Burial
St. Gertrude Cemetery
53 Inman Avenue
Colonia
,
New Jersey
07067
Charities
Ariel Theatrical
P.O. BOX 1268
Salinas, CA 93902