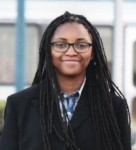 April 10, 1991
-
May 21, 2019
Born in San Francisco, California
Resided in

Salinas

,

California
Obituary
Domineque Jeanay Sivils
Sunrise Sunset
April 10, 1991 May 21, 2019
Domineque's joyous journey through this life began in the spring of 1991. Born on April 10th in San Francisco, California to her ecstatic parents Everett and Cardis Sivils. During this spring season she moved excitedly through her childhood. Enjoying cartoons with Mom and Dad, especially Power Rangers. An early love of music began with the Spice Girls. Pets were introduced and embraced. A pet dog named Jazmine, Guinea pigs, as well as her frog Filbert. Everett and Cardis beamed when Dom learned to ride her bicycle without training wheels at the tender age of 5. Throughout her childhood Dom began melting hearts with her unforgettable beautiful smile. Dad and mom soon learned that Dom's favorite color was red.
During the summer season of her journey her loving spirit, kind nature and gentle demeanor became evident. However, these character traits gave way to her distaste of the strong overpowering the weak. While attending Fitch Middle School, our petite Dom gut punched a classmate. In this season was filled with friends, clothes shopping and track & field. The latter as a member of the Monterey Bay Jaguars, she began journaling her thoughts about her pets, friends, family, and life.
The autumn of her journey found her at the school of her choosing, primarily due to the school colors of red and black, Seaside High proved Dom to be a bright, young lady full of promise. She added cross country running to track continuing with the jaguars. Domineque's journaling progressed to now include her observations of places, people in general, nature, and traffic. Developing a love of words, the family together would search word origins. Hanging out with friends and listening to music was one of her many joys. She began making CD's for enjoyment and discussion on many road trips that often involved a trip to Jack in the Box to stop for an oreo cookie milkshake and a bag of French fries. Dom and her dad would laugh, talk and listen to her music with no clear destination in mind-sometimes they would end up in Oakland and San Francisco CA.
Winter season began and autumn ended but we know not when. Now a proud, beautiful, full grown young adult Dom pursued classes at Hartnell Community College, where she joined the history club. Ever seeking ever learning she deemed herself a fashion coordinator for her dad and official barber for Mom. Her interest flowed into crafting jewelry, cooking, and most recently ice cream making. She was the family chauffeur (without protest). Journaling now included political views. Her pets were now Tilly the turtle, Desmona the bird, and Pep C the dog.
Domineque's winter closed on May 21, 2019 after a brief illness.
She leaves behind her beloved Mom and Dad, Cardis and Everett. Maternal family of the Bronx, New York, Grandmother Dorothy Cruz, Aunt Ursula Cruz-Greene; cousins Rajohn and Nico Cruz, Lynette Thompson. Paternal Family of Louisville, Kentucky. Grandfather Alfred Dandridge Jr. and Uncle Tamont Sivils. As well as a loving host of family and friends and of course Pep C, Desmona, and Tilly
The seasons of my life have sped from spring to winter so quickly. Until we meet again on the other side Moms favorite daughter, Dads little girl, Domineque Jeanay Sivils.
Visitation will be held 1:00p.m. to 7:00p.m. Wednesday, May 29, 2019 at Struve and Laporte Chapel, 41 W. San Luis Street, Salinas, CA. 93901.
Chapel Service will be held 11:00a.m. Thursday, May 30, 2019 at Struve and Laporte Chapel, 41 W. San Luis Street, Salinas, CA. 93901
Burial to follow at Queen of Heaven Cemetery, 18200 Damian Way, Salinas, CA. 93907.
Services
Visitation
Struve and Laporte Chapel
41 W. San Luis Street
Salinas
,
California
93901
Chapel Service
Struve and Laporte Chapel
41 W. San Luis Street
Salinas
,
California
93901
Burial
Queen of Heaven Cemetery
18200 Damian Way
Salinas
,
CA
US
93907