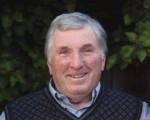 August 8, 1946
-
February 21, 2019
Born in Augusta, Maine
Resided in

Salinas

,

California
Obituary
"The Reel Legend"
David Poulin Sr
1946-2019
The Greatest Angler West of the Kennebec River

On February 21, 2019, the final cast was thrown by the greatest angler west of the Kennebec River, David Poulin Sr (72). After a tangled three-year battle with cancer, this devoted catholic was released upstream to the Heavens. Keep the faith, he'll be fishing again real soon.

The "Reel Legend" began his fly-tying days on August 8, 1946, in Augusta, Maine. The eldest son of Lucien Joseph & Fay (Bulduc) Poulin Sr. He grew up on the family farm with his brother Lou Jr, Ed, and sister Madeline. It was a simpler time, that left him with fond memories of ice fishing, hunting and gardening. He graduated from Cony High School in 1965. Rumor had it that he walked five miles to school in the snow! Uphill and both ways! During his high school years David ran track and cross-country. After graduation, he enlisted in the United States Army and ultimately drifted west to California where he spent the remainder of his military career stationed at the Defense Language Institute of Monterey (Company A).

Through the grace of God, David found his bountiful fishing hole in Salinas, California. In 1970 he married his beloved wife of 48 years, Peggy (Sykes) Poulin. Together they raised six children: David Jr (Noemi); Michael (Norma); Mark (Stephanie); Jeff (Katherine); Greg (Janessa) and Samantha. David will be affectionately remembered by his eight grandchildren: Madison; Aaron; Leah; Paisley; Mila; Landon; Victoria and Priscilla.

The rod on David's graphite Fenwick drew tight when he began his career with Longs Drugs in 1970. He proudly dedicated 34 years to a company that hired him on a handshake. Loyalty! He worked his way from clerk to store manager and enjoyed providing the community with the best bait & tackle. He loved and appreciated the life-long friendships he acquired at Longs Drugs. He especially enjoyed the yearly managers meeting held in Lake Tahoe. Drinking and playing softball with the crew! He tried his hand at golf a time or two, but quickly found that it was not as relaxing as fly-fishing.

When the fish weren't biting David could be found gardening in his backyard. He definitely had a green thumb. He attributed his crop production to the fish remains used as fertilizer. In retirement he earned several blue ribbon awards for his produce and fresh baked goods entered in the yearly Monterey County Fairs. He loved nothing more than barbequing with family on the weekends. A proud family man!

David was an active member of his community. In 1969 he joined the Salinas Valley Fly Fishermen Club, which he enjoyed for 15 years. The youth in East Salinas remember David as their baseball coach with the yellow team (DDS Chung) at Gene Robinson's ballpark (17 years). Now that was a dynasty! One of David's greatest contributions to his community was joining forces with a handful of parents and sponsors to create a youth football team for East Salinas kids - The Alisal Eagles.
He volunteered his time with Veterans affairs and in 2012 served as a Monterey County Grand Juror. He was a devout Catholic and member of Madonna Del Sasso Church.

Even though California was his home, he loved his East Coast sports teams - Boston Red Sox, New England Patriots and Boston Celtics.

In 2012, David embarked upon the greatest fishing chapter of his life, a trip to Alaska's Kenai Peninsula. It was a lifelong dream of his to fish in Alaska's waters. That remarkable trip was memorialized with his brother Lou Jr and cousin Robert.

David Poulin Sr, "The Reel Legend," was a remarkably hard-working reliable man who exemplified the meaning of being a husband, father, grandfather, brother and friend. A great roll model to all. He was as tough as nails-God bless his soul!

In his absence, the fish swim with a sigh of relief. His family & friends mourn as the greatest angler west of the Kennebec River breaks down his rod & reel and gracefully walks upstream into the brilliant sunset. Rest assured, the memories of The Legend and his tall-tales live on…

Visitation will be held 3:00p.m. to 7:00p.m. Tuesday, February 26, 2019 at Struve and Laporte Chapel, 41 W. San Luis Street, Salinas, CA. 93901

Rosary will be 7:00p.m. Tuesday, February 26, 2019 at Struve and Laporte Chapel.

Mass will be 10a.m. Wednesday, February 27, 2019 at Madonna del Sasso Church 320 E. Laurel Drive, Salinas, CA 93906.

Burial to follow at Garden of Memories Cemetery, 850 Abbot St. Salinas, CA 93901.
Services
Visitation
Struve and Laporte Chapel
41 W. San Luis Street
Salinas
,
California
93901
Rosary
Struve and Laporte Chapel
41 W. San Luis Street
Salinas
,
California
93901
Burial
Garden of Memories Cemetery
850 Abbott ST
Salinas
,
CA
US
93901
Mass
Madonna del Sasso Church
320 E. Laurel Drive
Salinas
,
CA
US
93906