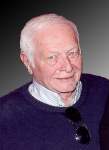 October 24, 1934
-
July 5, 2020
Born in Denison, Iowa
Resided in

Salinas

,

California
Obituary
Carol Strey, beloved husband, father, and grandfather, was a man who had more passionate interests than could fit in one lifetime.

Carol Gene Strey was born on October 24, 1934 in Denison, Iowa, to Clarence Strey, a controller for Armour and Company, and Wilma Vetterick. The family stayed in Iowa for several years, but eventually ended up in Louisville, Kentucky. Carol was an Eagle Scout, and always proud of having been at the 1950 Jamboree in Valley Forge, Pennsylvania. His interest in Scouting would continue well into his adult years through his participation in Wood Badge. He graduated from duPont Manual High School in Louisville, and briefly attended the University of Louisville before transferring to Centre College of Kentucky in Danville. At Danville, he majored in Art and got involved in the theatre productions, another interest that was to last a lifetime. Mostly, he was behind the scenes, designing and building sets, but he also played the role of George in Our Town.

After college, his career in the Navy took him and his family to many places: Whidbey Island, Washington; Monterey, California; Virginia Beach, Virginia; Rota, Spain; Alexandria, Virginia. Retiring from the Navy, he returned to Monterey, where he stayed for the rest of his life. He took advantage of his time in Spain to see as much of Europe as he could with his family. There were notable trips to Germany, England, and Greece. In retirement, he continued to travel whenever he could. He and his wife Eleanor took a number of trips. Two that stand out were a cruise that took them through the Panama Canal, and another that took them down the Rhine River.

Before committing to a Naval career, he spent some time as an interior designer. His first assignments in the Navy were as a navigator/bombardier on an A-3 Skywarrior in the Hatron Two squadron on the USS Coral Sea. The highlight of that time was a cruise to Australia to commemorate the twentieth anniversary of the Battle of the Coral Sea, the eponymous event for which his ship was named. His next assignment was at the U.S. Naval Postgraduate School in Monterey, where he earned a degree in meteorology, the field to which he would devote most of the rest of his career. His first job as a meteorologist was on the USS John F. Kennedy on its maiden voyage, which took him for a long cruise in the Mediterranean. After that, he was stationed at Fleet Weather Central in Rota, Spain, one of the four major Naval weather centers in the world, and key to ensuring the safe operation of Naval ships and planes in that quarter of the globe. Finally, he was stationed at Suitland, Maryland, at Fleet Numerical Weather Facility.

After leaving the Navy, Carol got a job as a project manager at a military contractor called TDC, which took him back to Monterey. While that promised to be a lucrative second career, the revolving door nature of military contractors did not appeal to him, so he left to be able to keep his family in a stable environment. He took a job as a programmer/analyst at Monterey Savings & Loan, which was subsequently acquired by Coast Savings & Loan. Unfortunately, this was at the time when the savings and loan crisis was taking down many of the smaller financial institutions in the country, and he once more had to find something else to do. This time he went back to the government as a civil servant, working for Fleet Numerical Meteorology and Oceanography Center, once again as a meteorologist, but on the civilian side.

Carol had a broad range of interests - too many to do more than touch on the highlights here. As a young man he had owned several sports cars, including a Lotus Elan and an Aston Martin DB4, and participated in gymkhana and rallying. He enjoyed photography and did a lot of his own darkroom work. He was interested in electronics, and built some major Heathkit products including a home organ, a color TV set, and a stereo receiver. His work in the Navy had made him an early enthusiast of computers, and he was one of the first home computer hobbyists, starting with the Altair 8800 in 1974, and continuing on the rest of his life with things like Arduino and the Raspberry Pi. He was also interested in astronomy and built his own reflecting telescope, including hand-grinding the eight-inch lens, a project that dominated the kitchen for several months. He loved designing and building things. Model trains and planes took up a good part of his garage.

On the softer side, he got interest in hooked rugs during the time in Spain, and designed a number himself using graph paper - a natural crossover from his scientific interests. Eventually, this morphed into counted cross-stitch, and he designed and made many of these needle-work projects over the years. The base in Spain also had an organization called Rota Little Theater, which provided him an outlet for his theater interests. His proudest accomplishment there was producing You're a Good Man, Charlie Brown.

Carol loved sharing things he was enthusiastic about. There were a few plays and musicals he was really excited about: Tom Stoppard's Arcadia, and Phantom of the Opera and Starlight Express by Andrew Lloyd Webber. Also chocolate, filet mignon, and cheeseburgers with Cold Duck.

Carol passed away July 5, 2020 after a short illness. He is survived by his wife, Eleanor Vilma Strey; his three sons by his first marriage, Scott Seabon Strey, David Lloyd Strey, Robin Wayne Strey; his son Carel Angel Strey from his second marriage; his sister Diane Strey; his stepsons Barry Tod Kruse and Brian Rolf Kruse; six grandchildren, and two great-grandchildren.

In lieu of flowers, contributions can be made to the Military Officers Association of America, MOAA Scholarship Fund, P.O. Box 1824, Merrifield, VA 22116; or The American Heart Association, 7272 Greenville Avenue, Dallas, TX 75231.
Services
Funeral Home
Struve and Laporte Funeral Home
41 West San Luis Street
Salinas
,
CA
US
93901
2020-08-14T
Charities
Military Officers Association of America
MOAA Scholarship Fund, P.O. BOX 1824
Merrifield, VA 22116
The American Heart Association
7272 Greenville Avenue
Dallas, Texas 75231