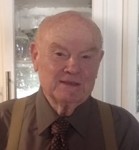 Bennett
William
Brown, Jr.
January 24, 1928
-
January 12, 2019
Born in Salinas, California
Resided in

Salinas

,

California
Obituary
Bennett William Brown Jr. "Bill", was born 24 January 1928 in the Santa Rita area of Salinas, CA, to Anna Old Bird (a widow following WWI with one son, Henry "Nook" Bird) and her second husband, Bennett William Brown. Bill's parents separated when he was four years old and his sister, Enid, who was three years older than Bill, went with their father. Bill grew up with his mother and step-brother on the Old family ranch in Chualar Canyon, land that was homesteaded by his maternal grandmother in 1902.
As a young man, Bill attended Chualar Elementary School. He and his mother became close friends with Tom Nunes II and Eva Nunes, who treated them like family, and were Bill's godparents when he converted to Catholicism in his teens. More than just schoolmates, the Nunes' two sons, Tom Nunes III and Bob, became like brothers. This deep friendship with the Nunes family lasted Bill's entire life.
While at Salinas High School Bill lettered in football and then attended Salinas Junior College (now Hartnell), until he enlisted in the US Navy in 1949. While stationed in Alameda, he married the love of his life, Barbara Jean Johnson, a young nursing student whom he met at a USO dance, and shortly thereafter had two children, JoAnn Marie in 1951 and Michael William in 1952. After working as a naval recruiter in Alameda, he completed a tour of combat duty in Korea on board the USS O'Brien commanded by Chester Nimitz as part of Task Force 77. He recalled in his 80s a particularly perilous incident in October 1952 in Wonsan Harbor where he narrowly survived enemy fire on board the ship's deck.
Following the war, Bill returned to Chualar Canyon with his wife and two young children. His first job was working for Gus Moller as a lettuce inspector, earning himself the nickname "Chopper" for chopping up so much lettuce during his inspections. In 1955, he and Barbara had their third child, Richard Steven. As one of the founders of Growers Exchange, Bill flourished in the produce business and, beginning in 1957 the family divided their time between Phoenix, AZ, the Salinas Valley, and the various summer produce "deals" in the San Joaquin Valley, Alamosa Colorado, and Las Cruces New Mexico. Growing up during the depression, Bill developed a strong work ethic and believed in and supported a good education. He and Barbara were very proud that their three children obtained university degrees and each went on to successful careers in their chosen fields.
In addition to farming, spending time at his cabin in Tahoe, and fishing with his children, Bill and Barbara enjoyed traveling and saw much of the world in the 1970s and 1980s. Bill was also an avid flier, who first learned to fly in King City when just 15 and earning his first pilot's license at 17. He owned several airplanes and held several pilot ratings through the course of his life, logging a over 13,000 hours. Bill also loved to fix equipment and take it apart too - he notoriously took apart the instruments on his airplane while flying his friends and family around California, resulting in many white knuckled fliers. Bill was a voracious reader and could talk about any WWII or Civil War battle. He told his children and grandchildren "the facts" on a regular basis, always adding "if you think I'm kidding you, I'm not!" His holiday toasts were epic.
In his "retired" years, he grew a small vineyard of chardonnay grapes on the family ranch in Chualar Canyon with the help of his son and Chualar Canyon neighbor, Richard. He also had a second ranch in Cedarville, CA, where grew alfalfa and beans into the early 2000s, for a time with the help of his son Michael and family, traveling back and forth between the two properties. Eventually Barbara told him she'd had enough farming and they spent their final years together in Chualar Canyon. After 61 years together, Barbara passed away in July 2012.
Bill spent his final years on his ranch in Chualar, where he continued to grow hay, raised cattle, and fixed farm equipment, recently with the help of his retired son-in-law. He also refurbished laptop computers that he bought online, donating many to schools and charities. In April 2017, he met four of his late sister Enid's granddaughters, who were thrilled to meet their great uncle and learn about the Old family history in Chualar. Bill enjoyed flying his drones, playing cards at the Salinas Elks Lodge with his friends, chatting on the phone about the produce business, monitoring the daily weather forecast and rainfall, and visiting with family. He was a long time member of Sacred Heart Parish in Salinas.
He passed away in Salinas on Saturday, January 12, 2019, surrounded by his three children, family and friends. He was much loved and he will be greatly missed. Bill is survived by his daughter, JoAnn Sullivan (Thomas) of Phoenix and Chualar, and sons, Michael Brown (Marilynn) of Asheville, NC; and Richard Brown (Virginia) of Chualar. Bill enjoyed his grandchildren, Ben Sullivan, Natalie Sullivan (Phoenix Sullivan), Steven Brown (Monya Ashe), Susan Worthington (Reynolds), Matthew Brown (Anna), Michael Brown (Tonya), Michelle Brown, Bennett Katrina Domingues (Jorge) and William Brown (Andrea); 4 great-nieces, and 18 great-grandchildren. Bill was preceded in death by his wife Barbara, his parents Anna Old Bird and Bennett William "aka Sidney" Brown Sr., his step brother Henry Bird, and his sister Enid Brown Sommerfield. A private celebration of Bill's life is being planned for summer July 2019.
Services
Celebration of Life
Private