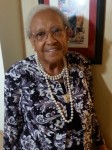 Ada Lee
Onciano
Wilkerson
February 15, 1925
-
June 17, 2019
Born in Natchitoches, Louisiana
Resided in

Salinas

,

California
Obituary
Ada grew up with seven brothers and sisters and her parents (Murphy and Ada Payton) on a ranch outside of Natchitoches, LA. Early on in her life she learned the lessons of being independent. The family was well off at that time. They owned horses, cows, goats, and chickens. They were not sharecroppers.

Tragedy struck early in her life when her father was murdered before her eyes. The family fell on hard times had to be divided. Ada was only able to attend school to the eighth grade. She was blessed to be able to stay with her grandparents, brothers, and sisters in Natchitoches. When of age, Ada married Benjamin Brooks who was at the time in the Army. Due to his obligation to the service they were relocated to Los Angeles, CA. The marriage did not last long and soon Ada moved north relocating in the Salinas area where she worked as a civil servant at Fort Ord. Soon, Ada extolled the many opportunities available in Monterey County and shared them with her sister Audra and her mother who decided to move West also.

In Salinas, Ada met Marcelino Romais Onciano, where they enjoyed going to the dance halls. They married and began their family living on Soledad Street. As the family grew they moved to the rural area of Salinas called Boronda. They enjoy family and friend gatherings on weekends especially birthday parties. Ada wanted to raise the family where there were sidewalks, parks, and walking distance to school so they moved to her final home near Central Park.

Ada began her first employment in aeronautics when located in Los Angeles and Fort Ord. After the war ended she went to work in the packing sheds where she met a lifetime friend named Caroline Kelly. After working many years and desiring to do more, she left Spiegel Foods and went on her own. She was able to save enough money to purchase Bayview Residential Care Home in Prunedale. Her mother also named Ada, moved there when she needed care. Ada was able to care for her until she went to the Lord. From the Bayview home which she sold, she temporarily opened a small residential care home in Greenfield, CA. In Greenfield, she built a forty bed care home called SOMOCO, which she operated until 1988.

Ada's passion for God began in a store front church located near her first home on Soledad Street. After selling she retired temporarily to go into the ministry where she became a Pastor. Before pastoring she served on many boards and committees within her faith which prepared her for her ministry. She started All Nations Pentecostal COG serving the youth and the lost. During that time she met Heiman Wilkerson. They shared many of the same interests. Although she wasn't looking for love she found it with Herman. They married in 1996. Included in her ministry was Victory Mission and Monterey County Jail Ministries. She also operated halfway homes that was assisted by her ministry. She was currently a member of Echoes From Calvary Church.

Her many passions were traveling, fishing, cooking (her seafood gumbo was the bomb), shopping, children, family, grand and great grandchildren. She loved everyone individually and unconditionally. She invested life for God and her family to the fullest. Her travels included visiting Germany, Switzerland, Belgium, France, Ireland, England, Egypt, Israel for a religious sabbatical, Philippines, Korea for a religious convention, and traveled extensively through the states. Her other favorite passion was fishing especially at Pinto Lake.

Her greatest passion was family. She was always insisting that the family needs to stay together. She prayed constantly for her children, husbands, family, and friends. She was always ready to lend a hand or a prayer. Her last prayers were for her children to come back to the Lord.

Her other loves were her many pet friends that lived with her. From Sport to Sissy, she loved her four legged children as much as her own children.

As her children, we thank God for our mother and we will miss her passion for life, her laughter, her smile, her wittiness, her grittiness, her fortitude to overcome, her wisdom, her thoughtfulness, her beauty, but most of all her love.

Ada was survived by her 5 children, Frank Onciano, Frances Huston and husband Lawrence Huston, Jr., Carolyn Johnson, Torebio Onciano and his wife Jacqueline Onciano and Prescilla Picar and her husband Wayne Picar, 13 grandchildren, 17 great-grandchildren and many nieces and nephews.

She was preceded in death by her husbands: Marcelino Onciano and Heiman Wilkerson; her mother and father Murphy and Ada Payton; her sisters and brothers: Segue Payton, Theodore Payton, Murphy Payton, Amos Payton, Audra Favero and Mary Lean Carpenter.

Visitation will be held 3:00p.m. to 7:00p.m. Friday, June 21, 2019 at Struve and Laporte Chapel. 41 W. San Luis Street, Salinas, Ca. 93901.

Funeral Service will be 11:00a.m. Saturday, June 22, 2019 at Echoes From Calvary Church, 1025 Post Drive, Salinas, CA. 93907.

Burial to follow at Queen of Heaven Cemetery, 18200 Damian Way, Salinas, Ca. 93907.

In lieu of flowers the family is requesting donations be made to Victory Mission, P. O. Box 995, Salinas, CA 93901 in honor of Ada Onciano Wilkerson.
Services
Visitation
Struve and Laporte Chapel
41 W. San Luis Street
Salinas
,
California
93901
Funeral Service
Echoes from Calvary Church
1025 Post Drive
Salinas
,
CA
US
93907
Burial
Graveside Queen of Heaven
18200 Damian Way
Salinas
,
CA
US
93907
Charities
Victory Mission
P.O.Box 995
Salinas, CA Monterey 93901